Kia Sportage: Aux, USB and iPod® port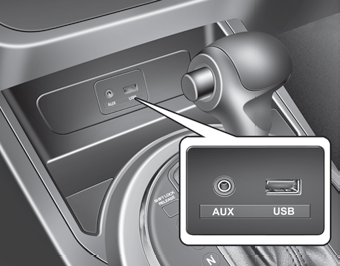 If your vehicle has an aux and/or USB(universal serial bus) port or iPod® port, you can use an aux port to connect audio devices and an USB port to plug in an USB and also an iPod® port to plug in an iPod®.
✽ NOTICE
When using a portable audio device connected to the power outlet, noise may occur during playback. If this happens, use the power source of the portable audio device.
* iPod® is a trademark of Apple Inc.
iPod® mobile digital device sold separately. Connectivity may require use of the Kia accessory cable.

WARNING - Distracted driving
Driving while distracted can result in a loss of vehicle control that may lead to an accident, severe personal injury, and death. The driver's primary responsibility is in the safe and legal operation of a vehicle, and use of any handheld devices, other equipment, or vehicle systems which take the driver's eyes, attention and focus away from the safe operation of a vehicle or which are not permissible by law should never be used during operation of the vehicle.
Type A Type B The steering wheel may incorporate audio control buttons. ✽ NOTICE Do not operate audio remote control buttons simultaneously. Driving while distracted is dangerous and s ...
AM and FM radio signals are broadcast from transmitter towers located around your city. They are intercepted by the radio antenna on your vehicle. This signal is then received by the radio and s ...
Other Information:
Condition and operation in the front passenger occupant detection system
*1) The system judges a person of adult. When a smaller adult sits in the front passenger seat, the system may recognize him/her as a child depending on his/her physique and posture. *2) Do not ...
Description and Operation
Description Windshield deicer system prevent windshield wiper from freezing in the winter season. It consists of deicer in the lower part of windshield, switch and relay. Body control module ...