Kia Sportage: Balance Shaft & Oil Pump: Components and Components Location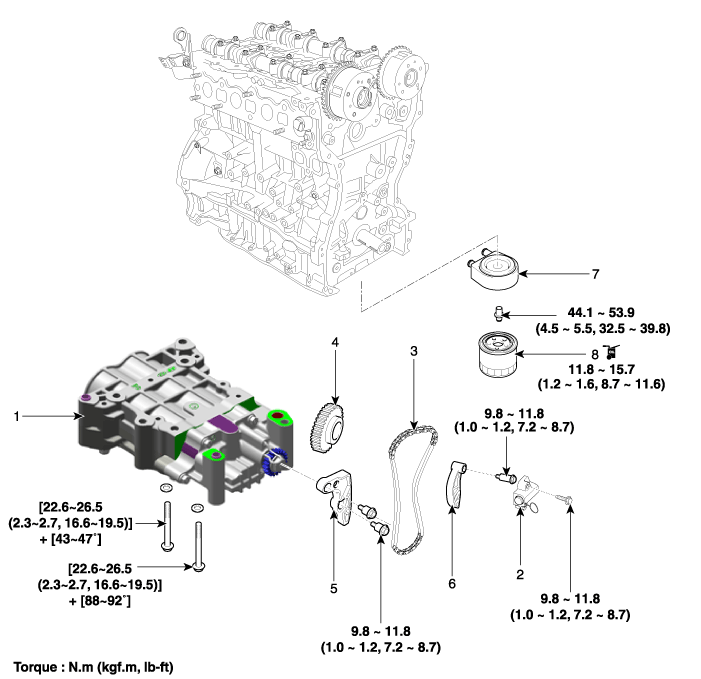 1. Balance shaft & oil pump assembly




2. Balance shaft chain tensioner




3. Balance shaft chain




4. Balance shaft chain sprocket




5. Balance shaft chain guide




6. Balance shaft chain tensioner arm




7. Oil cooler




8. Oil filter



Oil And Filter Replacement Х Prolonged and repeated contact with mineral oil will result in the removal of natural fats from the skin, leading to dryness, ir ...
Removal BSM (Balance Shaft Module) Chain System 1. Remove the timing chain. (Refer to Timing System in this group) 2. Install a stopper pin (A) after compressing the balance shaft chain tens ...
Other Information:
Components and Components Location
Components Location 1. Overdrive clutch (OD/C)2. One way clutch (OWC)3. Low & Reverse brake (LR/B)4. Underdrive brake (UD/B)5. 26 brake(26/B)6. 35R clutch (35R/C)7. Damper clutch (D/C) ...
Heated Oxygen Sensor (HO2S): Repair procedures
Inspection 1. Turn the ignition switch OFF. 2. Disconnect the HO2S connector. 3. Measure resistance between the HO2S terminals 4 and 5 [B1/S1]. 4. Measure resistance between the HO2S t ...
Copyright © www.kispmanual.com 2014-2019