Kia Sportage: Front fog light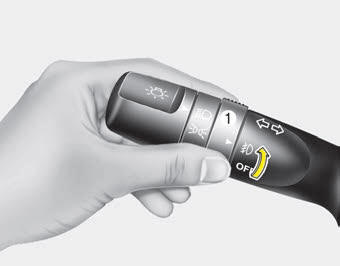 Fog lights are used to provide improved visibility when visibility is poor due to fog, rain or snow, etc. The fog lights will turn on when the fog light switch (1) is turned to the on position after the headlight is turned on.
To turn off the fog lights, turn the fog light switch (1) to the OFF position.
When in operation, the fog lights consume large amounts of vehicle electrical power. Only use the fog lights when visibility is poor.
The ignition switch must be on for the turn signals to function. To turn on the turn signals, move the lever up or down (A). The green arrow indicators on the instrument panel indicate which tur ...
Daytime Running Lights (DRL) can make it easier for others to see the front of your vehicle during the day. DRL can be helpful in many different driving conditions, and it is especially helpful af ...
Other Information:
FLEX Steer
The FLEX Steer controls steering effort as driver's preference or road condition. You can select the desired steering mode by pressing the FLEX Steer button. The FLEX Steer stays in the last m ...
Heater & A/C Control Unit(Manual): Components and Components Location
Components Connector Pin Function ConnectorPin NoFunctionConnectorPin NOFunctionConnector(A)1HighConnector(B)1Tail Lamp (ILL+)2Middle High2Battery3Middle Low3Mode Actuator (VENT)4-4Mode Actuator ...