Kia Sportage: Heater & A/C Control Unit(Full Automatic): Components and Components Location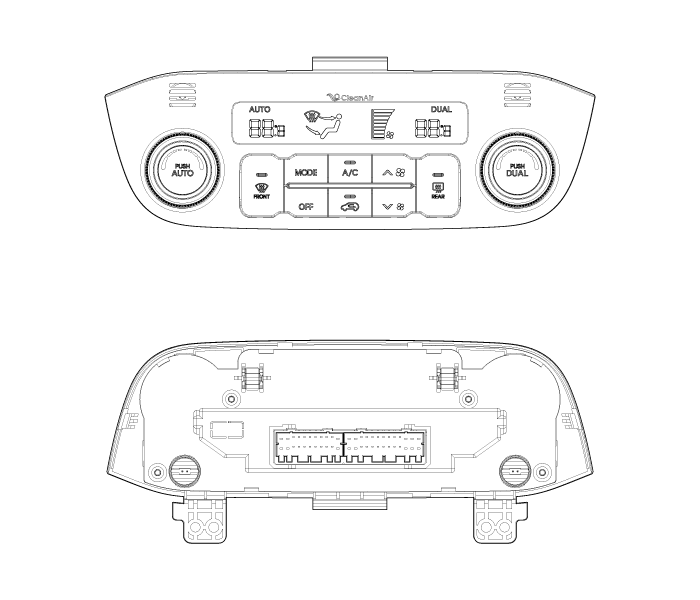 Connector Pin Function
Connector




Pin NO




Function




Connector




Pin NO




Function




Connector(A)




1




Battery




Connector(B)




1




CAN (LOW)




2




Tail Lamp (ILL+)




2




CAN (HIGH)




3




IG2




3




Intake Actuator (F/B)




4




DR Temp Actuator (COOL)




4




Mode Actuator (F/B)




5




DR Temp Actuator (WARM)




5




PS Temp Actuator (F/B)




6




Detent




6




DR Temp Actuator (F/B)




7




Mode Actuator (VENT)




7




Diagnosis (Cluster Ion)




8




Mode Actuator (DEF)




8




V Ref (+5V)




9




-




9




-




10




-




10




-




11




-




11




ECV IN




12




Rheostat (ILL-)




12




GND




13




GND




13




HI- Scan(L-line)




14




IG1




14




Evaporator Sensor




15




Ion Signal




15




Ambient Sensor




16




Intake Actuator (FRE)




16




-




17




Intake Actuator (REC)




17




LH Photo (-)




18




Clean Signal




18




RH Photo (-)




19




Blower Motor (+)




19




-




20




PS Temp Actuator (COOL)




20




-




21




PS Temp Actuator (WARM)




21




-




22




Power Mosfet (GATE)




22




ECV Out




23




Power Mosfet (DRAIN)







24




HTD(Rear Def Ind.)




25




Rear Def S/W (Low)




26




Sensor GND



Replacement 1. Disconnect the negative (-) battery terminal. 2. Using the screwdriver, remove the cluster facia panel (A). 3. Using the screwdriver, remove the crash pad garnish (A). 4. ...
Self Diagnosis 1. Self-diagnosis process 2. How to read self-diagnostic code After the display panel flickers three times every 0.5 second, the corresponding fault code flickers on the setu ...
Other Information:
ON
Green indicator Х With automatic transaxle Press the ENGINE START/STOP button while it is in the ACC position without depressing the brake pedal. The warning lights can be checked before the en ...
Injector: Schematic Diagrams
Circuit Diagram ...
Copyright © www.kispmanual.com 2014-2019