Kia Sportage: Oil hydraulic Motor(Actuator): Description and Operation
The 4WD ECM controls the Pump Motor Pump (Actuator) to generating an oil pressure. The pressure engages a multiple disk clutch to transfer torque to the rear wheels. The torque to the rear wheels varies according to the pressure on the clutch.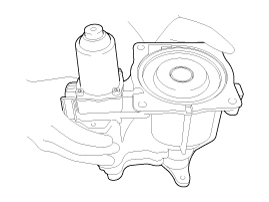 Inspection All units are filled up with coupling fluid (ultra-low viscosity ATF) prior to shipping. Inspection, fill-up, and replacement of coupling fluid is theref ...
Other Information:
Battery saver function
The purpose of this feature is to prevent the battery from being discharged if the lights are left in the ON position. The system automatically turns off the parking lights when the driver tu ...
Repair procedures
Inspection 1. After disconnecting the vapor hose from the PCV valve, remove the PCV valve. 2. Reconnect the PCV valve to the vapor hose. 3. Run the engine at idle, then put a finger ove ...
Copyright © www.kispmanual.com 2014-2019