Kia Sportage: To resume cruising speed at more than approximately 40 km/h (25 mph)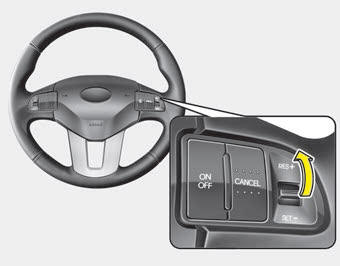 If any method other than the cruise ON-OFF switch was used to cancel cruising speed and the system is still activated, the most recent set speed will automatically resume when the RES + switch is pushed.
It will not resume, however, if the vehicle speed has dropped below approximately 40 km/h (25 mph).
Press the brake pedal. Press the clutch pedal with a manual transaxle. Shift into N (Neutral) with an automatic transaxle. Push the CANCEL switch located on the steering wheel. Decrease t ...
Push the cruise ON-OFF button (the CRUISE indicator light in the instrument cluster will go off). Turn the ignition off. Both of these actions will cancel the cruise control operation. If ...
Other Information:
Don't let ice and snow accumulate underneath
Under some conditions, snow and ice can build up under the fenders and interfere with the steering. When driving in severe winter conditions where this may happen, you should periodically check un ...
General Information
General 1. Basically, all measurements in this manual are taken with a tracking gauge. 2. When a measuring tape is used, check to be sure there is no elongation, twisting or bending. 3. ...