Kia Sportage: To set cruise control speed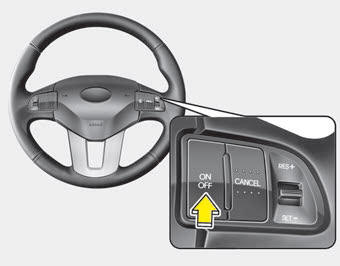 1.Push the cruise ON-OFF button on the steering wheel, to turn the system on. The CRUISE indicator light in the instrument cluster will illuminate.
2.Accelerate to the desired speed, which must be more than 40 km/h (25 mph).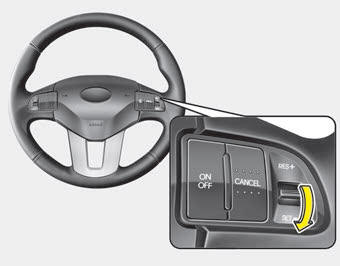 3.Push the - SET switch, and release it at the desired speed. The SET indicator light in the instrument cluster will illuminate. Release the accelerator at the same time. The desired speed will automatically be maintained.
On a steep grade, the vehicle may slow down or speed up slightly while going downhill.
1.Cruise indicator 2.Cruise set indicator The cruise control system allows you to program the vehicle to maintain a constant speed without pressing the accelerator pedal. This system is designe ...
Follow either of these procedures: Push the RES + switch and hold it. Your vehicle will accelerate. Release the switch at the speed you want. Push the RES + switch and release it immediatel ...
Other Information:
Power Seat Motor: Repair procedures
Inspection Power Seat Motor 1. Remove the front seat. (Refer to BD group - "Front seat") 2. Disconnect the connectors for each motor. 3. With the battery connected directly to the motor ...
Body Control Module (BCM): Description and Operation
Description Body control module receives various input switch signals controlling time and alarm functions for front washer interlocking wiper, front intermittent wiper, mist wiper, rear wa ...