Kia Sportage: Water pump: Components and Components Location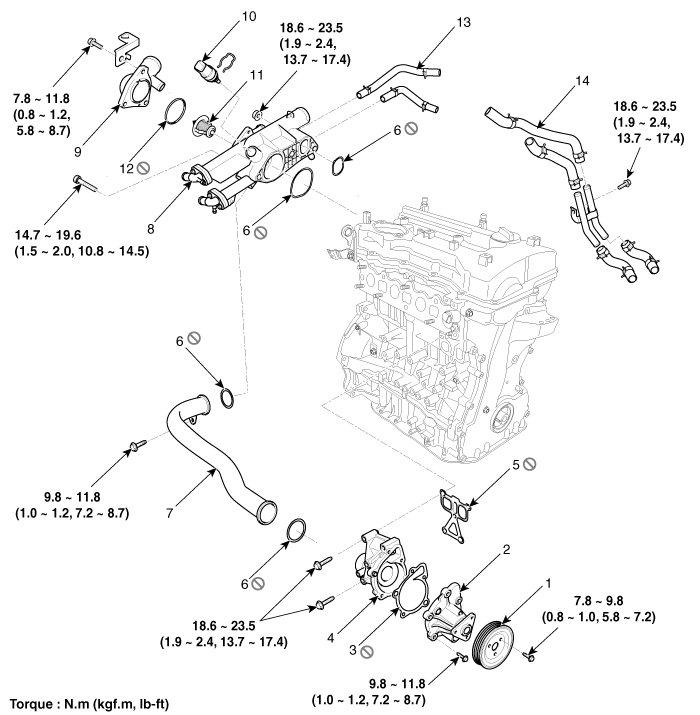 1. Water pump pulley




2. Water pump sub assembly




3. Water pump gasket




4. Water pump cover




5. Water pump cover gasket




6. O-ring




7. Water inlet pipe




8. Water temperature control assembly




9. Water inlet fitting




10. Engine coolant temperature sensor




11. Thermostat




12. Thermostat gasket




13. Throttle body coolant hoses




14. Oil cooler coolant hoses



Inspection Radiator Cap Testing 1. Remove the radiator cap, wet its seal with engine coolant, and then install it on a pressure tester. 2. Apply a pressure of 93.16 ~ 122.58kPa (0.95 ~ 1.25kg ...
Removal and Installation 1. Loosen the drain plug, and then drain the engine coolant. Remove the radiator cap to drain with speed. 2. Remove the drive belt (A) after turning the drive belt ten ...
Other Information:
Front Fog Lamps: Repair procedures
Inspection Front Fog Lamp Switch 1. With the fog lamp switch in each position, make sure that continuity exists between the terminals below. If continuity is not as specified, replace the mul ...
Ambient Sensor: Description and Operation
Description 1. The ambient temperature sensor is located at the front of the condenser and detects ambient air temperature. It is a negative type thermistor; resistance will increase with lowe ...
Copyright © www.kispmanual.com 2014-2019