Kia Sportage: First generation JA (1993Ц2004)
First generation JA (1993Ц2004)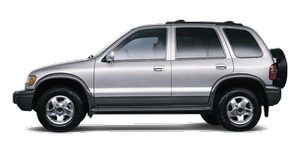 The first-generation Kia Sportage was developed with a Mazda Bongo engineering base platform. It shares many mechanical components such as the engine, transmissions (early versions), and differentials with the Mazda line of vehicles. This was during Kia's alliance with Ford and Mazda, which involved Ford/Mazda providing technology and Kia providing inexpensive manufacturing facilities for Ford.
After a two-year hiatus, the model-year 2005 Sportage returned, sharing its Elantra-based platform with the 2005 Hyundai Tucson. Critics and fans of the original, pre-Hyundai Sportage complain that it ...
Other Information:
Electric Waste Gate Actuator (EWGA): Components and Components Location
Components 1 . Housing2 . Cover 3. Sealing Cover4 . Motor5. Pinion6 . Shaft Gear7 . PCB Assembly8 . Middle Gear9 . Lever10 . Lever Pin11 . Rod - End12 . Rod ...
Outside rearview mirror
Be sure to adjust the mirror angles before driving. Your vehicle is equipped with both left-hand and right-hand outside rearview mirrors. The mirrors can be adjusted remotely with the remote switch ...
Copyright © www.kispmanual.com 2014-2022