Kia Sportage: Camshaft Position Sensor (CMPS): Description and Operation
Camshaft Position Sensor (CMPS) is a hall sensor and detects the camshaft position by using a hall element.
It is related with Crankshaft Position Sensor (CKPS) and detects the piston position of each cylinder which the CKPS can''t detect.
The CMPS is installed on engine head cover and uses a target wheel installed on the camshaft. The Cam Position sensor is a hall-effect type sensor. As the target wheel passes the Hall sensor, the magnetic field changes in the sensor. The sensor then switches a signal which creates a square wave.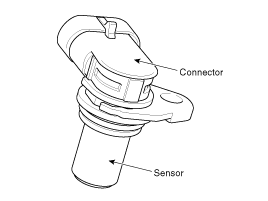 Inspection 1. Check the signal waveform of the CMPS and CKPS using the GDS. Specification: Refer to УWave FormФ Removal 1. Turn the ignition switch OFF and disconnect the battery negat ...
Other Information:
Tachometer
The tachometer indicates the approximate number of engine revolutions per minute (rpm). Use the tachometer to select the correct shift points and to prevent lugging and/or over-revving the engi ...
Front headrest
The driver's and front passenger's seats are equipped with a headrest for the occupant's safety and comfort. The headrest not only provides comfort for the driver and front passenger, ...
Copyright © www.kispmanual.com 2014-2023