Kia Sportage: Fourth generation QL (2016–present)
Fourth generation QL (2016–present)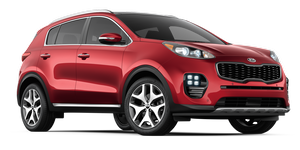 Kia Motors America (KMA) unveiled the all-new Sportage at the 2015 Los Angeles Auto Show. The fourth-generation Sportage, KMA's longest-running nameplate, wraps stunning contemporary design around a structure that is both stiffer and more spacious than before.
The SL series Kia Sportage was released in April 2010 to Asian and European markets, followed by the North and Central American markets in August 2010 for model year 2011. Australian models were relea ...
Other Information:
Crash Pad: Repair procedures
Replacement Cluster Replacement • When prying with a flat-tip screwdriver, wrap it with protective tape, and apply protective tape around the related parts, ...
Special Service Tools
Special Service Tools Tool Name / NumberIllustrationDescriptionEngine support fixture (bar)09200-3N000Used for holding engine assembly when removing / installing transaxleUsed with the supporter ...
Copyright © www.kispmanual.com 2014-2023