Kia Sportage: First generation JA (1993Ц2004)
First generation JA (1993Ц2004)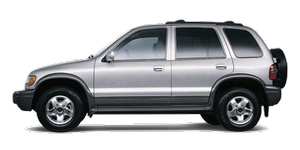 The first-generation Kia Sportage was developed with a Mazda Bongo engineering base platform. It shares many mechanical components such as the engine, transmissions (early versions), and differentials with the Mazda line of vehicles. This was during Kia's alliance with Ford and Mazda, which involved Ford/Mazda providing technology and Kia providing inexpensive manufacturing facilities for Ford.
After a two-year hiatus, the model-year 2005 Sportage returned, sharing its Elantra-based platform with the 2005 Hyundai Tucson. Critics and fans of the original, pre-Hyundai Sportage complain that it ...
Other Information:
Adjusting the Set Speed Tolerance
You can set a permanent speed tolerance that is above or below the detected speed limit. Use the touchscreen to select the following: Select Settings. Select Driver Assist. Select Cruise Control ...
Check spark plugs and ignition system
Inspect your spark plugs as described in section 7 and replace them if necessary. Also check all ignition wiring and components to be sure they are not cracked, worn or damaged in any way. ...