Kia Sportage: First generation JA (1993Ц2004)
First generation JA (1993Ц2004)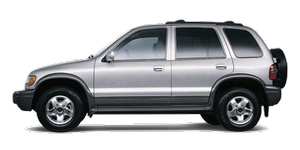 The first-generation Kia Sportage was developed with a Mazda Bongo engineering base platform. It shares many mechanical components such as the engine, transmissions (early versions), and differentials with the Mazda line of vehicles. This was during Kia's alliance with Ford and Mazda, which involved Ford/Mazda providing technology and Kia providing inexpensive manufacturing facilities for Ford.
After a two-year hiatus, the model-year 2005 Sportage returned, sharing its Elantra-based platform with the 2005 Hyundai Tucson. Critics and fans of the original, pre-Hyundai Sportage complain that it ...
Other Information:
Canister: Repair procedures
Removal 1. Remove the fuel tank. (Refer to "Fuel tank" in FL group.) 2. Disconnect the vapor tube quick-connector (B) and the ventilation hose (A). 3. Remove the canister in the direction ...
ESC (Electronic Stability Control) indicator
The ESC indicator will illuminate when the ignition switch is turned ON, but should go off after approximately 3 seconds. When the ESC is on, it monitors the driving conditions and under normal ...