Kia Sportage: Caring for disc
If the temperature inside the car is too high, open the car windows to ventilate before using the system.
It is illegal to copy and use MP3/WMA files without permission. Use CDs that are created only by lawful means.
Do not apply volatile agents, such as benzene and thinner, normal cleaners and magnetic sprays made for analogue disc onto CDs.
To prevent the disc surface from getting damaged, hold CDs by the edges or the center hole only.
Clean the disc surface with a piece of soft cloth before playback (wipe it from the center to the outside edge).
Do not damage the disc surface or attach pieces of sticky tape or paper.
Make certain only CDs are inserted into the CD player (Do not insert more than one CD at a time).
Keep CDs in their cases after use to protect them from scratches or dirt.
Depending on the type of CDR/ CD-RW CDs, certain CDs may not operate normally according to the manufacturing companies. In such circumstances, continued use may cause malfunctions to your audio system.
✽ NOTICE - Playing an Incompatible Copy Protected Audio CD
Some copy protected CDs, which do not comply with international audio CD standards (Red Book), may not play on your car audio. Please note that inabilities to properly play a copy protected CD may indicate that the CD is defective, not the CD player.
NOTE:
Order of playing files (folders) :
1. Song playing order: 1 to 14 sequentially.
2. Folder playing order :
❋ If no song file is contained in the folder, that folder is not displayed.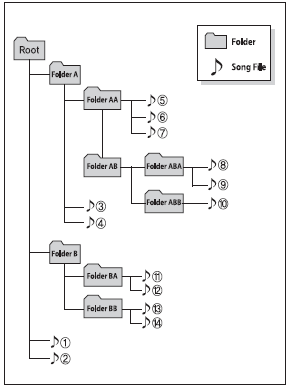 WARNING - Driver Distraction
Do not stare at the screen while driving. Staring at the screen for prolonged periods of time could lead to traffic accidents.
Using the phone while driving may lead to a lack of attention of traffic conditions and increase the likelihood of accidents. Use the phone feature after parking the vehicle.

WARNING - Audio System
Do not disassemble, assemble, or modify the audio system. Such acts could result in fire or electric shock.

WARNING - Antenna
Do not touch the antenna during thunder or lightening as such acts may lead to lightning induced electric shock.

CAUTION
Refrain from use if the screen is blank or no sound can be hear as these signs may indicate product malfunction.
Adjust the volume to levels that allow the driver to hear sounds from outside of the vehicle. Driving in a state where external sounds cannot be heard may lead to accidents.
Pay attention to the volume setting when turning the device on. A sudden output of extreme volume upon turning the device on could lead to hearing impairment. (Adjust the volume to a suitable levels before turning off the device.)
✽ NOTICE
Please inquire with your place of purchase or service maintenance center prior to changing the position of any devices installed in your audio system. Technical expertise is required to disassemble and/or install these devices.

CAUTION
Do not subject the device to severe shock or impact. Direct pressure onto the front side of the monitor may cause damage to the LCD or touch screen.

CAUTION - Device cleaning
When cleaning the device, make sure to turn off the device and use a dry and smooth cloth.
Never use tough materials, chemical cloths, or solvents (alcohol, benzene, thinners, etc.) as such materials may damage the device panel or cause color/quality deterioration.
Prevent caustic solutions such as perfume and cosmetic oil from contacting the dashboard because they may cause damage or discoloration.
Turn on the car ignition before using this device. Do not operate the audio system for long periods of time with the ignition turned off as such operations may lead to battery discharge.
In case of product malfunction, please contact your place of purchase or After Service center.
Placing the audio system within an electromagnetic environment may result in noise interference.