Kia Sportage: For safe four-wheel drive operation
Do not try to drive in deep standing water or mud since such conditions can stall your engine and clog your exhaust pipes. Do not drive down steep hills since it requires extreme skill to maintain control of the vehicle.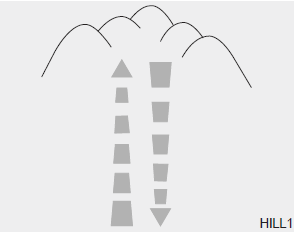 When you are driving up or down hills drive as straight as possible. Use extreme caution in going up or down steep hills, since you may flip your vehicle over depending on the grade, terrain and water/mud conditions.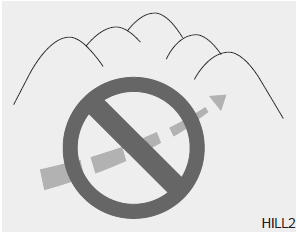 WARNING - Hills
Proceed with extreme caution when driving down steep hills. A slight change in the wheel angle can destabilize the vehicle. This can cause your vehicle to suddenly roll without warning and without time for you to regain control of your vehicle.
You must consciously take the effort to learn how to corner in a 4WD vehicle. Do not rely on your experience in conventional 2WD vehicles in choosing safe cornering speed in 4WD mode. For starters, you must drive more slowly in 4WD.
Drive carefully off-road because your vehicle may be damaged by rocks or roots of trees. Become familiar with the off-road conditions where you are going to drive before you begin driving.

WARNING - 4WD
Reduce speed when you turn corners. The center of gravity of 4WD vehicles is higher than that of conventional 2WD vehicles, making them more likely to roll over when you turn corners too fast.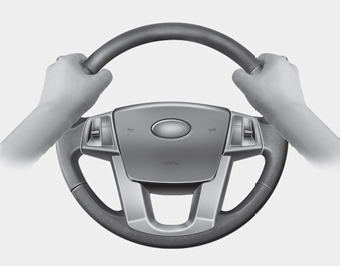 WARNING - Steering wheel
Do not grab the inside of the steering wheel when you are driving off-road. You may hurt your arm by a sudden steering maneuver or from steering wheel rebound due to impact with objects on the ground.
Always hold the steering wheel firmly when you are driving offroad.
Make sure all passengers are wearing seat belts.

WARNING - Wind danger
Drive slow in heavy winds. The vehicle's higher center of gravity decreases your steering control capacity.
If you need to drive in the water, stop your vehicle, set your transfer to the 4WD LOCK mode and drive at less than 8 km/h (5 mph).

WARNING - Driving through water
Drive slowly. If you are driving too fast in water, the water can get into the engine compartment and wet the ignition system, causing your vehicle to suddenly stop. If this happens and your vehicle is in a tilted position, your vehicle may roll over.
✽ NOTICE
Shorten your scheduled maintenance interval if you drive in offroad conditions such as sand, mud or water (see "Maintenance under severe usage conditions" in section 7). Always wash your vehicle thoroughly after off-road use, especially cleaning the bottom of the vehicle.
A full time four wheel drive vehicle cannot be towed by an ordinary tow truck. Make sure that the vehicle is placed on a flat bed truck for moving.

WARNING - 4WD driving
Do not attempt quick steering maneuvers or sharp turns in 4WD mode. Such maneuvers increase the risk of rollover accidents. Rollover accidents are extremely violent and unpredictable.

CAUTION - Mud or snow
Do not run the engine continuously at high rmps to free the vehicle from snow or mud. Doing so could damage the 4WD system in your vehicle.

WARNING - Jacked vehicle
While the full-time 4WD vehicle is being raised on a jack, never start the engine or cause the tires to rotate.
There is the danger that rotating tires touching the ground could cause the vehicle to go off the jack and to jump forward.
Full-time 4WD vehicles must be tested on a special four wheel chassis dynamometer.
A full-time 4WD vehicle should not be tested on a 2WD roll tester. If a 2WD roll tester must be used, perform the following: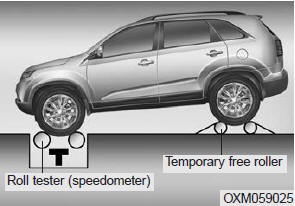 1.Check the tire pressures recommended for your vehicle.
2.Place the front wheels on the roll tester for a speedometer test as shown in the illustration.
3.Release the parking brake.
4.Place the rear wheels on the temporary free roller as shown in the illustration.