Kia Sportage: Hazard warning flasher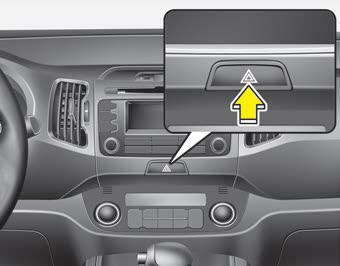 The hazard warning flasher should be used whenever you find it necessary to stop the vehicle in a hazardous location. When you must make such an emergency stop, always pull off the road as far as possible.
The hazard warning lights are turned on by pushing in the hazard switch. Both turn signal lights will blink. The hazard warning lights will operate even though the key is not in the ignition switch.
To turn the hazard warning lights off, push the switch again.

WARNING - Backing & using camera
Never rely solely on the rear view camera when backing. You must always use methods of viewing the area behind you including looking over both shoulders as well as continuously checking all three rear view mirrors. Due to the difficulty of ensuring that the area behind you remains clear, always back slowly and stop immediately if you even suspect that a person, and especially a child, might be behind you.