Kia Sportage: Heated Oxygen Sensor (HO2S): Description and Operation
Heated Oxygen Sensor (HO2S) consists of zirconium and alumina and is installed both upstream and downstream of the Manifold Catalytic Converter. The sensor output voltage varies in accordance with the air/fuel ratio.
The sensor must be hot in order to operate normally. To keep it hot, the sensor has a heater which is controlled by the ECM via a duty cycle signal. When the exhaust gas temperature is lower than the specified value, the heater warms the sensor tip.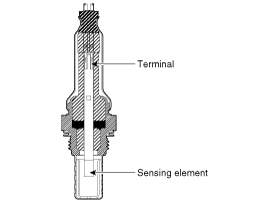 Removal 1. Turn the ignition switch OFF and disconnect the battery negative (-) cable. 2. Remove the intake manifold (Refer to "Intake And Exhaust System" in EM group). 3. Disconnect the ...
Specification HO2S [Bank 1/Sensor 1] ItemSpecificationHeater Resistance (?)2.5 ~ 4.0 [20°C(68°F)] HO2S [Bank 1/Sensor 2] A/F Ratio (?)Output Voltage(V)RICHApprox. 0.9LEANApprox. 0.04 ...
Other Information:
Components and Components Location
Component Location 1. AVN (A/V & Navigation) head unit2. Tweeter speaker3. External Amplifier4. Roof antenna (GPS + SDARS + Radio)5. Front door speaker6. Rear door speaker7. Woofer speaker8. ...
Components and Components Location
Components 1. Driver Airbag (DAB)2. Steering Wheel3. Clock Spring4. Seat Belt Pretensioner (BPT)5. Pressure Side Impact Sensor (P-SIS)6. Side Impact Sensor (SIS)7. Side Airbag (SAB)8. Passenger A ...
Copyright © www.kispmanual.com 2014-2023