Kia Sportage: Specifications
Items




Specification




Fuel Tank




Capacity




55 lit. (14.5 U.S.gal., 58.1 U.S.qt., 48.4 Imp.qt.)




Fuel Filter




Type




Paper type




Fuel Pressure




Low Pressure Fuel Line




493 ~ 507 kPa (5.0 ~ 5.2 kgf/cm?, 71.5 ~ 73.5 psi)




High Pressure Fuel Line




2.0 ~ 15.0 MPa (20.4 ~ 153.0 kgf/cm?, 290.1 ~ 2175.6 psi)




Fuel Pump




Type




Electrical, in-tank type




Driven by




Electric motor




High Pressure Fuel Pump




Type




Mechanical type




Driven by




Camshaft



Manifold Absolute Pressure Sensor (MAPS) #1
? Type: Piezo-resistive pressure sensor type
Pressure




[kPa (kgf/cm?, psi)]




Output Voltage (V)




20.0 (0.20, 2.9)




0.79




46.7 (0.47, 6.77)




1.84




101.3 (1.03, 14.7)




4.0



Intake Air Temperature Sensor (IATS)
Temperature




Resistance (k?)




°C




°F




-40




-40




40.93 ~ 48.35




-20




-4




13.89 ~ 16.03




0




32




5.38 ~ 6.09




10




50




3.48 ~ 3.90




20




68




2.31 ~ 2.57




40




104




1.08 ~ 1.21




50




122




1.56 ~ 1.74




60




140




0.54 ~ 0.62




80




176




0.29 ~ 0.34



Manifold Absolute Pressure Sensor (MAPS) #2
? Type: Piezo-resistive pressure sensor type
Pressure




[kPa (kgf/cm?, psi)]




Output Voltage (V)




20.0 (0.20, 2.9)




0.79




46.7 (0.47, 6.77)




1.84




101.3 (1.03, 14.7)




4.0



Engine Coolant Temperature Sensor (ECTS)
Temperature




Resistance (k?)




°C




°F




-40




-40




48.14




-20




-4




14.13 ~ 16.83




0




32




5.79




20




68




2.31 ~ 2.59




40




104




1.15




60




140




0.59




80




176




0.32



Throttle Position Sensor (TPS) [integrated into ETC Module]
? Type: Variable resistor type
Throttle Angle(°)




Output Voltage (V) [Vref = 5.0V]




TPS1




TPS2




0




0




5.0




10




0.48




4.52




20




0.95




4.05




30




1.43




3.57




40




1.90




3.10




50




2.38




2.62




60




2.86




2.14




70




3.33




1.67




80




3.81




1.19




90




4.29




0.71




100




4.76




0.24




105




5.0




0



Item




C.T




W.O.T




TPS1




Throttle Angle (°)




6.3 ~ 14.7




93.45 ~ 101.85




Output Voltage




[Vref=5V]




0.3 ~ 0.7




4.45 ~ 4.85




TPS2




Throttle Angle (°)




90.3 ~ 98.7




3.15 ~ 11.55




Output Voltage




[Vref=5V]




4.3 ~4.7




0.15 ~ 0.55



| | |
| --- | --- |
| Item | Resistance (k?) |
| TPS | 0.875 ~ 1.625 [20°C(68°F)] |
Crankshaft Position Sensor (CKPS)
Camshaft Position Sensor (CMPS)
? Type: Piezo-electricity type
| | |
| --- | --- |
| Item | Specification |
| Capacitance (pF) | 850 ~ 1,150 |
Heated Oxygen Sensor (HO2S) [Bank 1/Sensor 1]
? Type: Zirconia (ZrO2) [Linear] Type
| | |
| --- | --- |
| Item | Specification |
| Heater Resistance (?) | 2.5 ~ 4.0 [20°C(69.8°F)] |
Heated Oxygen Sensor (HO2S) [Bank 1/Sensor 2]
? Type: Zirconia (ZrO2) [Binary] Type
| | |
| --- | --- |
| A/F Ratio (?) | Output Voltage(V) |
| RICH | Approx. 0.9 |
| LEAN | Approx. 0.04 |
| | |
| --- | --- |
| Item | Specification |
| Heater Resistance (?) | 3.3 ~ 4.1 [21°C(69.8°F)] |
Rail Pressure Sensor (RPS)
? Type: Piezo-electricity type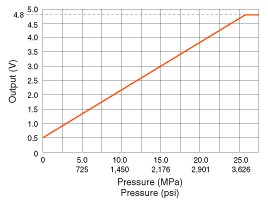 EWGA Position Sensor [integrated into Electric Waste Gate Actuator (EWGA)]
? Type: Hall effect, NON-Contact type
| | | | |
| --- | --- | --- | --- |
| Position | Output Voltage [V] | Operating Angle[°] | Range of Rod [mm], reference |
| Mechanical Close end stop Position (MCP) | 4.8 | 0 | 0 |
| Electrical Close end stop Position (ECP) | 4.2 | 12 | 1.8 |
| Electrical Open end stop Position (EOP) | 1 | 79 | 16 |
| Mechanical Open end stop Position (MOP) | 0.5 | 90 | 18 |
CVVT Oil Temperature Sensor (OTS)
| | |
| --- | --- |
| Temperature [°C(°F)] | Resistance (k?) |
| -40(-40) | 52.15 |
| -20(-4) | 16.52 |
| 0(32) | 6 |
| 20(68) | 2.45 |
| 40(104) | 1.11 |
| 60(140) | 0.54 |
| 80(176) | 0.29 |
Accelerator Position Sensor (APS)
? Type: Variable resistor type
Accelerator




Position




Output Voltage (V)




APS1




APS2




C.T




0.7 ~ 0.8




0.29 ~ 0.46




W.O.T




3.85 ~ 4.35




1.93 ~ 2.18



Fuel Tank Pressure Sensor (FTPS)
? Type: Piezo - Resistivity type
Pressure




[kPa (kgf/cm?, in H2O)




Output Voltage (V)




-6.67 (-0.068, -26.8)




0.5




0




2.5




+6.67 (0.068, 26.8)




4.5



| | |
| --- | --- |
| Item | Specification |
| Coil Resistance (?) | 1.25 [20°C(68°F)] |
ETC Motor [integrated into ETC Module]
| | |
| --- | --- |
| Item | Specification |
| Coil Resistance (?) | 1.2 ~ 1.8 [20°C(68°F)] |
Purge Control Solenoid Valve (PCSV)
| | |
| --- | --- |
| Item | Specification |
| Coil Resistance (?) | 19.0 ~ 22.0 [20°C(68°F)] |
CVVT Oil Control Valve (OCV)
| | |
| --- | --- |
| Item | Specification |
| Coil Resistance (?) | 6.9 ~ 7.9 [20°C(68°F)] |
Fuel Pressure Regulator Valve
| | |
| --- | --- |
| Item | Specification |
| Coil Resistance (?) | 0.5 [20°C(68°F)] |
EWGA DC Motor [integrated into Electric Waste Gate Actuator (EWGA)]
| | |
| --- | --- |
| Item | Specification |
| Coil Resistance (?) | 1.48 ~ 1.96 [21°C(69.8°F)] |
| | |
| --- | --- |
| Item | Specification |
| Primary Coil Resistance (?) | 0.62 ± 10%[20°C(68°F)] |
| Secendary Coil Resistance (k?) | 7.0 ± 15%[20°C(68°F)] |
RCV Control Solenoid Valve
| | |
| --- | --- |
| Item | Specification |
| Coil Resistance (?) | 28.3 ~ 31.1 [20°C(68°F)] |
Canister Close Valve (CCV)
| | |
| --- | --- |
| Item | Specification |
| Coil Resistance (?) | 19.8 ~ 21.8 [20°C(68°F)] |
Item




Specification




Ignition Timing (°)




BTDC 6 ± 10




Idle Speed (rpm)




A/C OFF




Neutral, N, P-range




650 ± 100




D-range




650 ± 100




A/C ON




Neutral, N, P-range




650 ± 100




D-range




730 ± 100



Engine Control System
| | | | |
| --- | --- | --- | --- |
| Item | kgf.m | N.m | lb-ft |
| ECM installation nut | 1.0 ~ 1.2 | 9.8 ~ 11.8 | 7.2 ~ 8.7 |
| ECM bracket installation bolt | 1.9 ~ 2.4 | 18.6 ~ 23.5 | 13.7 ~ 17.4 |
| ECM bracket installation nut | 1.0 ~ 1.2 | 9.8 ~ 11.8 | 7.2 ~ 8.7 |
| Manifold absolute pressure sensor #1 installation bolt | 1.0 ~ 1.2 | 9.8 ~ 11.8 | 7.2 ~ 8.7 |
| Manifold absolute pressure sensor #2 installation bolt | 1.0 ~ 1.2 | 9.8 ~ 11.8 | 7.2 ~ 8.7 |
| Crankshaft position sensor installation bolt | 1.0 ~ 1.2 | 9.8 ~ 11.8 | 7.2 ~ 8.7 |
| Crankshaft position sensor cover installation bolt (M6) | 1.0 ~ 1.2 | 9.8 ~ 11.8 | 7.2 ~ 8.7 |
| Crankshaft position sensor cover installation bolt (M8) | 1.9 ~ 2.4 | 18.6 ~ 23.5 | 13.7 ~ 17.4 |
| Camshaft position sensor (Bank 1 / Intake) installation bolt | 1.0 ~ 1.2 | 9.8 ~ 11.8 | 7.2 ~ 8.7 |
| Camshaft position sensor (Bank 1 / Exhaust) installation bolt | 1.0 ~ 1.2 | 9.8 ~ 11.8 | 7.2 ~ 8.7 |
| Knock sensor installation bolt | 1.9 ~ 2.4 | 18.6 ~ 23.5 | 13.7 ~ 17.4 |
| Heated oxygen sensor (Bank 1 / sensor 1) installation | 4.0 ~ 5.0 | 39.2 ~ 49.1 | 28.9 ~ 36.2 |
| Heated oxygen sensor (Bank 1 / sensor 2) installation | 4.0 ~ 5.0 | 39.2 ~ 49.1 | 28.9 ~ 36.2 |
| Rail pressure sensor installation | 1.8 ~ 2.2 | 18.0 ~ 22.0 | 13.3 ~ 16.2 |
| Electronic throttle body installation bolt | 0.8 ~ 1.0 | 7.8 ~ 9.8 | 5.8 ~ 7.2 |
| Purge control solenoid valve bracket installation bolt | 1.0 ~ 1.2 | 9.8 ~ 11.8 | 7.2 ~ 8.7 |
| CVVT oil control valve (Bank 1 / Intake) installation bolt | 1.0 ~ 1.2 | 9.8 ~ 11.8 | 7.2 ~ 8.7 |
| CVVT oil control valve (Bank 1 / Exhaust) installation bolt | 1.0 ~ 1.2 | 9.8 ~ 11.8 | 7.2 ~ 8.7 |
| Ignition coil installation bolt | 1.0 ~ 1.2 | 9.8 ~ 11.8 | 7.2 ~ 8.7 |
| RCV control solenoid valve bracket installation bolt | 1.0 ~ 1.2 | 9.8 ~ 11.8 | 7.2 ~ 8.7 |
| CVVT oil temperature sensor installation | 2.0 ~ 4.0 | 19.6 ~ 39.2 | 14.5 ~ 28.9 |
Fuel Delivery System
| | | | |
| --- | --- | --- | --- |
| Item | kgf.m | N.m | lb-ft |
| Fuel tank installation nut | 4.0 ~ 5.5 | 39.2 ~ 54.0 | 28.9 ~ 39.8 |
| Filler-neck assembly bracket installation bolt | 0.4 ~ 0.6 | 3.9 ~ 5.9 | 2.9 ~ 4.3 |
| Filler-neck assembly installation screw | 0.8 ~ 1.2 | 7.8 ~ 11.8 | 5.8 ~ 8.7 |
| Accelerator pedal module installation nut | 1.7 ~ 2.6 | 16.7 ~ 25.5 | 12.3 ~ 18.8 |
| Accelerator pedal module installation bolt | 0.8 ~ 1.2 | 7.8 ~ 11.8 | 5.8 ~ 8.7 |
| Delivery pipe installation bolt | 1.9 ~ 2.4 | 18.6 ~ 23.5 | 13.7 ~ 17.4 |
| High pressure fuel pump installation bolt | 1.3 ~ 1.5 | 12.8 ~ 14.7 | 9.4 ~ 10.9 |
| High pressure fuel pipe installation nut | 2.7 ~ 3.3 | 26.5 ~ 32.4 | 19.5 ~ 23.9 |
| High pressure fuel pipe function block installation bolt | 1.0 ~ 1.2 | 9.8 ~ 11.8 | 7.2 ~ 8.7 |
Special Service Tools ItemIllustrationApplicationFuel Pressure Gauge(09353-24100)Measuring the fuel line pressureFuel Pressure Gauge Adapter(09353-02100)Connection between the high pressure fuel ...
Other Information:
Front Fog Lamps: Repair procedures
Inspection Front Fog Lamp Switch 1. With the fog lamp switch in each position, make sure that continuity exists between the terminals below. If continuity is not as specified, replace the mul ...
26 Brake Control Solenoid Valve(26/B_VFS): Specifications
Specifications Direct control VFS[26/B] ? Control type : Normal low type Control Pressure kpa (kgf/cm?, psi)9.81 ~ 500.14 (0.1 ~ 5.1, 1.42 ~ 72.54)Current value(mA)50 ~ 850 Internal resist ...