Kia Sportage: Accelerator Position Sensor (APS): Description and Operation
Accelerator Position Sensor (APS) is installed on the accelerator pedal module and detects the rotation angle of the accelerator pedal. The APS is one of the most important sensors in engine control system, so it consists of the two sensors which adapt individual sensor power and ground line. The second sensor monitors the first sensor and its output voltage is half of the first one. If the ratio of the sensor 1 and 2 is out of the range (approximately 1/2), the diagnostic system judges that it is abnormal.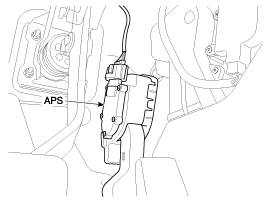 Inspection 1. Turn the ignition switch OFF. 2. Disconnect the OTS connector. 3. Remove the OTS. 4. After immersing the thermistor of the sensor into engine coolant, measure resistance ...
Specification AcceleratorPositionOutput Voltage (V)APS1APS2C.T0.7 ~ 0.80.29 ~ 0.46W.O.T3.85 ~ 4.351.93 ~ 2.18 ...
Other Information:
Cylinder Block: Repair procedures
Disassembly Х Use fender covers to avoid damaging painted surfaces. Х To avoid damage, unplug the wiring connectors carefully while holding the connec ...
Troubleshooting
Troubleshooting SymptomSuspect areaEngine will not start or struggle to startVapor hose damaged or disconnectedEngine struggles to startMalfunction of the Purge Control Solenoid ValveRough idle o ...
Copyright © www.kispmanual.com 2014-2023