Kia Sportage: Injector: Description and Operation
Based on information from various sensors, the ECM can calculate the fuel amount to be injected. The fuel injector is a solenoid-operated valve and the fuel injection amount is controlled by length of injection time. The ECM controls each injector by grounding the control circuit. When the ECM energizes the injector by grounding the control circuit, the circuit voltage should be low (theoretically 0V) and the fuel is injected. When the ECM de-energizes the injector by opening control circuit, the fuel injector is closed and circuit voltage should momentarily peak, and then settle at system voltage.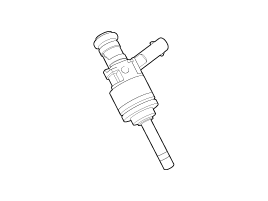 Inspection 1. Connect the GDS on the Data Link Connector (DLC). 2. Measure the output voltage of the FTPS. Specification: Refer to "Specification" Removal 1. Turn the ignition swit ...
Specification ItemSpecificationCoil Resistance (?)1.25 [20°C(68°F)] ...
Other Information:
Front windshield washers
In the OFF position, pull the lever gently toward you to spray washer fluid on the windshield and to run the wipers 1-3 cycles. Use this function when the windshield is dirty. The spray and wipe ...
In the event of brake failure
If service brakes fail to operate while the vehicle is in motion, you can make an emergency stop with the parking brake. The stopping distance, however, will be much greater than normal. WARN ...
Copyright © www.kispmanual.com 2014-2022