Kia Sportage: RCV Control Solenoid Valve: Description and Operation
RCV (Recirculation Valve) Control Solenoid Valve is installed on the intercooler inlet pipe and operates the RCV actuator which controls the by-pass passage of the turbocharger compressor.
When the throttle is closed, while the engine is running at cruise rpm (tip-out), the turbocharger boost pressure raises rapidly. The pressure wave strikes a compressor blades causing a knocking noise. To prevent this the ECM opens the recirculation valve which allows excessive boost pressure to vent back to the air cleaner side of the turbocharger compressor.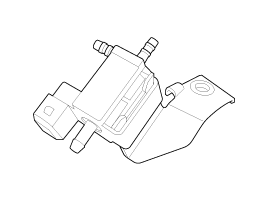 Inspection [Motor] 1. Turn ignition switch OFF. 2. Disconnect the EWGA connector. 3. Check that the EWGA is stuck by foreign material. 4. Measure resistance between motor (+) and ( ...
Specification ItemSpecificationCoil Resistance (?)28.3 ~ 31.1 [20°C(68°F)] ...
Other Information:
Vehicle handling instructions
As with other vehicles of this type, failure to operate this vehicle correctly may result in loss of control, an accident or vehicle rollover. Specific design characteristics (higher ground clearan ...
Camshaft Position Sensor (CMPS): Description and Operation
Description Camshaft Position Sensor (CMPS) is a hall sensor and detects the camshaft position by using a hall element. It is related with Crankshaft Position Sensor (CKPS) and detects the pisto ...
Copyright © www.kispmanual.com 2014-2022