Kia Sportage: Schematic Diagrams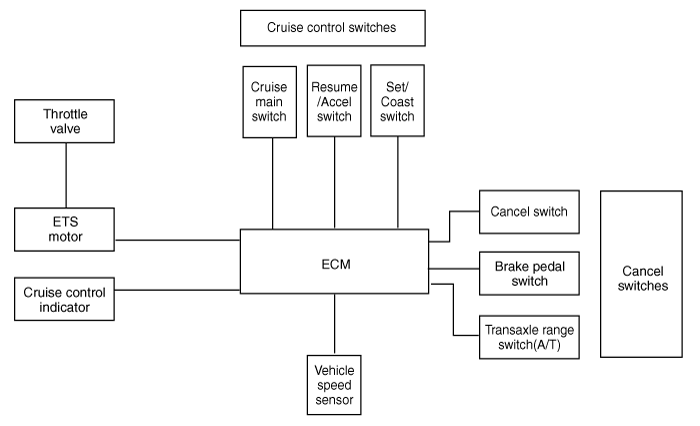 Component Parts And Function Outline
Component part




Function




Vehicle-speed sensor




Converts vehicle speed to pulse.




ECM




Receives signals from sensor and control switches.




Cruise control indicator




Illuminate when CRUISE main switch is ON (Built into cluster)




Cruise Control switches




ON/OFF switch




Switch for automatic speed control power supply.




Resume/Accel switch




Controls automatic speed control functions by Resume/Accel switch (Set/Coast switch)




Set/Coast switch




Cancel switches




Cancel switch




Sends cancel signals to ECM.




Brake-pedal switch




Transaxle range switch (A/T)




ETS motor




Regulates the throttle valve to the set opening by ECM.



* ETS : Electronic Throttle System
Cruise Control The cruise control system is engaged by the cruise "ON/OFF" main switch located on right of steering wheel column. The system has the capability to cruise, coast, accelerate and ...
Other Information:
26 Brake Control Solenoid Valve(26/B_VFS): Description and Operation
Description 26Brake control solenoid valve(26/B) is attached to the valve body. This variable force solenoid valve directly controls the hydraulic pressure inside the 26Brake. ...
SYNC
Argentina Brazil China Djibouti European Union EU Ghana Jamaica Malaysia Mauritania Moldova Morocco Pakistan Paraguay NR: 2017-12-I-0000413 Serbia Singapore South Africa South Korea ...
Copyright © www.kispmanual.com 2014-2022