Kia Sportage: Downhill brake control (DBC)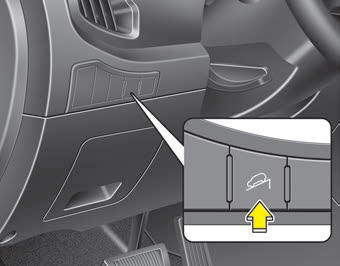 The Downhill Brake Control (DBC) supports the driver driving down a steep hill without the driver depressing the brake pedal. It slows down the vehicle under 8 km/h (5mph) and lets the driver concentrate on steering the vehicle.
DBC defaults to the OFF position whenever the ignition is turned on.
The DBC can be turned on or off by pushing the button.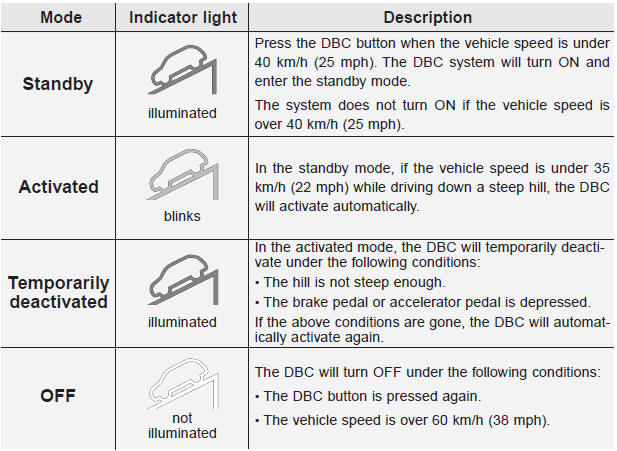 ✽ NOTICE
If the DBC red indicator light illuminates, the system has overheated or something is wrong. The DBC will not activate. If the DBC red indicator light illuminates even though the DBC system has been cooled enough have the system checked by an authorized Kia dealer.
The DBC does not turn ON in the P (Park) position.
The DBC may not activate if the ESC (or BAS) is activated.
In a very steep hill even though the brake pedal or accelerator pedal is depressed the DBC may not deactivate.
Always turn OFF the DBC on normal roads. The DBC might activate from the standby mode when abrupt corning or driving through speed bumps.
The rear stop light comes on when the DBC is activated.
✽ NOTICE
Noise or vibration may occur from the brakes when the DBC is activated.
DBC may activate and cause the engine to stop in vehicles with manual transaxle if you drive in 3rd gear (or above) with DBC on. Do not turn on DBC when driving in 3rd gear (or above).
A vehicle has the tendency to roll back on a steep hill when it starts to go after stopping. The Hill-start Assist Control (HAC) prevents the vehicle from rolling back by applying the brakes autom ...
Check to be sure the parking brake is not engaged and the parking brake indicator light is out before driving away. Driving through water may get the brakes wet. They can also get wet when ...
Other Information:
Valve Body: Description and Operation
Description The valve body is essential to automatic transaxle control and consists of various valves used to control the oil feed from the oil pump. Specifically, these valves consist of press ...
Canister: Repair procedures
Removal 1. Remove the fuel tank. (Refer to "Fuel tank" in FL group.) 2. Disconnect the vapor tube quick-connector (B) and the ventilation hose (A). 3. Remove the canister in the direction ...