Kia Sportage: Second generation JE/KM (2004Ц2010)
Second generation JE/KM (2004Ц2010)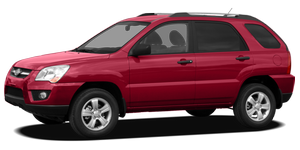 After a two-year hiatus, the model-year 2005 Sportage returned, sharing its Elantra-based platform with the 2005 Hyundai Tucson. Critics and fans of the original, pre-Hyundai Sportage complain that it is considerably larger than the original Sportage and has none of the earlier off-road capability, the two keys for its success.
The first-generation Kia Sportage was developed with a Mazda Bongo engineering base platform. It shares many mechanical components such as the engine, transmissions (early versions), and differentials ...
The SL series Kia Sportage was released in April 2010 to Asian and European markets, followed by the North and Central American markets in August 2010 for model year 2011. Australian models were relea ...
Other Information:
Components and Components Location
Component Location (1) 1. Head lamp(Low)2. Head lamp(High)3. DRL & position LED4. Front turn signal lamp5. Front fog lamp6. Door mirror turn signal lamp (LED)7. Overhead lamp8. Room lamp9. Va ...
Fuel Pressure Control Valve: Description and Operation
Description Fuel Pressure Regulator Valve is installed on the high pressure fuel pump and controls fuel flow flowing into the injectors in accordance with the ECM signal calculated based on var ...