Kia Sportage: First generation JA (1993Ц2004)
First generation JA (1993Ц2004)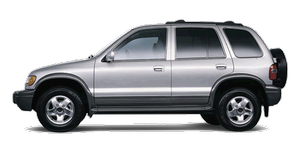 The first-generation Kia Sportage was developed with a Mazda Bongo engineering base platform. It shares many mechanical components such as the engine, transmissions (early versions), and differentials with the Mazda line of vehicles. This was during Kia's alliance with Ford and Mazda, which involved Ford/Mazda providing technology and Kia providing inexpensive manufacturing facilities for Ford.
After a two-year hiatus, the model-year 2005 Sportage returned, sharing its Elantra-based platform with the 2005 Hyundai Tucson. Critics and fans of the original, pre-Hyundai Sportage complain that it ...
Other Information:
Direct Electro Hydraulic Actuator Coupling: Description and Operation
Description 4WD ECU processes signals from various sensors and determines the current road and driving conditions. The ECU then utilizes this information to implement precision control over th ...
Front windshield washers
In the OFF position, pull the lever gently toward you to spray washer fluid on the windshield and to run the wipers 1-3 cycles. Use this function when the windshield is dirty. The spray and wipe ...
Copyright © www.kispmanual.com 2014-2019