Kia Sportage: First generation JA (1993Ц2004)
First generation JA (1993Ц2004)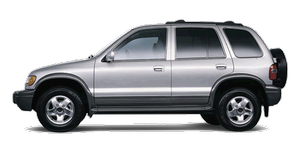 The first-generation Kia Sportage was developed with a Mazda Bongo engineering base platform. It shares many mechanical components such as the engine, transmissions (early versions), and differentials with the Mazda line of vehicles. This was during Kia's alliance with Ford and Mazda, which involved Ford/Mazda providing technology and Kia providing inexpensive manufacturing facilities for Ford.
After a two-year hiatus, the model-year 2005 Sportage returned, sharing its Elantra-based platform with the 2005 Hyundai Tucson. Critics and fans of the original, pre-Hyundai Sportage complain that it ...
Other Information:
Input Speed Sensor: Specifications
Specifications ? Type: Hall effect sensor Operation condition (∞C)∞F((-)40~150)) -40~302Air gap (mm)in.(0.95~1.65) 0.0374~0.0649Output voltage(V)High1.18 ~ 1.68Low0.59 ~ 0.84 ...
General Safety Information and Caution
Precautions General Precautions Please read the following precautions carefully before performing the airbag system service. Observe the instructions described in this manual, or the airbags c ...
Copyright © www.kispmanual.com 2014-2020