Kia Sportage: First generation JA (1993Ц2004)
First generation JA (1993Ц2004)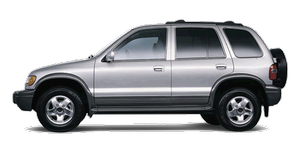 The first-generation Kia Sportage was developed with a Mazda Bongo engineering base platform. It shares many mechanical components such as the engine, transmissions (early versions), and differentials with the Mazda line of vehicles. This was during Kia's alliance with Ford and Mazda, which involved Ford/Mazda providing technology and Kia providing inexpensive manufacturing facilities for Ford.
After a two-year hiatus, the model-year 2005 Sportage returned, sharing its Elantra-based platform with the 2005 Hyundai Tucson. Critics and fans of the original, pre-Hyundai Sportage complain that it ...
Other Information:
Engine compartment
GDI engine T-GDI engine 1. Engine coolant reservoir 2. Engine oil filler cap 3. Brake/clutch* fluid reservoir 4. Positive battery terminal 5. Negative battery terminal 6. Fuse box 7. Air c ...
Low aspect ratio tire
Low aspect ratio tires, whose aspect ratio is lower than 50, are provided for sporty looks. Because the low aspect ratio tires are optimized for handling and braking, it may be more uncomfortable ...
Copyright © www.kispmanual.com 2014-2018