Kia Sportage: First generation JA (1993Ц2004)
First generation JA (1993Ц2004)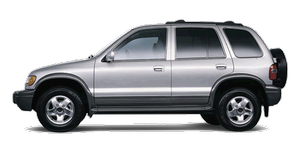 The first-generation Kia Sportage was developed with a Mazda Bongo engineering base platform. It shares many mechanical components such as the engine, transmissions (early versions), and differentials with the Mazda line of vehicles. This was during Kia's alliance with Ford and Mazda, which involved Ford/Mazda providing technology and Kia providing inexpensive manufacturing facilities for Ford.
After a two-year hiatus, the model-year 2005 Sportage returned, sharing its Elantra-based platform with the 2005 Hyundai Tucson. Critics and fans of the original, pre-Hyundai Sportage complain that it ...
Other Information:
General Information
General Troubleshooting Information Before Troubleshooting 1. Check applicable fuses in the appropriate fuse/relay box. 2. Check the battery for damage, state of charge, and clean and tight c ...
Audio Unit: Repair procedures
Removal 1. Disconnect the negative (-) battery terminal. 2. Remove the crash pad passenger''s garnish (A). (Refer to BD group - "Crash pad") 3. Disconnect the connectors and remove the cl ...