Kia Sportage: Fourth generation QL (2016–present)
Fourth generation QL (2016–present)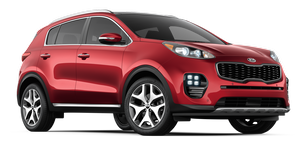 Kia Motors America (KMA) unveiled the all-new Sportage at the 2015 Los Angeles Auto Show. The fourth-generation Sportage, KMA's longest-running nameplate, wraps stunning contemporary design around a structure that is both stiffer and more spacious than before.
The SL series Kia Sportage was released in April 2010 to Asian and European markets, followed by the North and Central American markets in August 2010 for model year 2011. Australian models were relea ...
Other Information:
Rear Body: Body Repair
Side outer panel rear cornerTail gate hinge mounting hole (O12)Tail gate lifter mounting hole (O9)Side outer panel rear cornerRear bumper mounting hole (8.5X8.5)Rear bumper mounting hole (14X16)Re ...
Injector: Troubleshooting
Signal Waveform The three waveforms below are taken from the #1 and #4 injectors. The top waveform is from the high side (feed side) of the #1 and #4 injectors, while the middle waveform is fro ...
Copyright © www.kispmanual.com 2014-2018