Kia Sportage: Electric Waste Gate Actuator (EWGA): Components and Components Location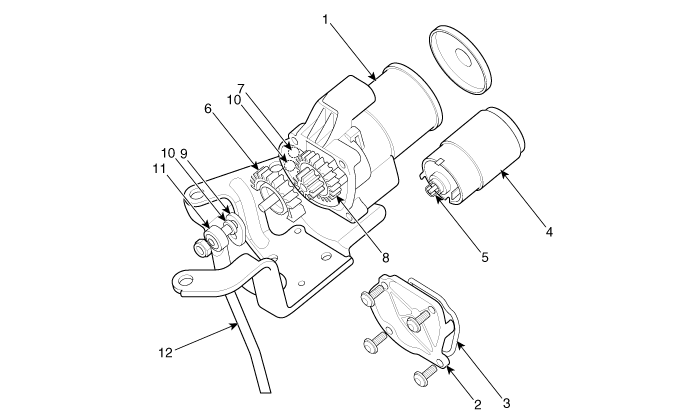 1 . Housing




2 . Cover




3. Sealing Cover




4 . Motor




5. Pinion




6 . Shaft Gear




7 . PCB Assembly




8 . Middle Gear




9 . Lever




10 . Lever Pin




11 . Rod - End




12 . Rod



Desrcription The Electric WGT Control Actuator is installed on the turbocharger. It operates the vain in the Waste Gate Turbocharger (WGT) and regulates the compressed air amount by the ECM''s P ...
Specification [EWGA Position Sensor] PositionOutput Voltage[V]Operating Angle[°]Range of Rod [mm], referenceMechanical Close end stop Position (MCP)4.800Electrical Close end stop Position ...
Other Information:
Back up warning system
The Back up warning system assists the driver during backward movement of the vehicle by chiming if any object is sensed within a distance of 120 cm (47 in.) behind the vehicle. This system is ...
Tires and wheels
CAUTION When replacing tires, use the same size originally supplied with the vehicle. Using tires of a different size can damage the related parts or make it work irregularly. ✽ NOTIC ...
Copyright © www.kispmanual.com 2014-2019