Kia Sportage: Engine temperature gauge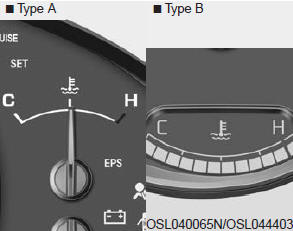 This gauge shows the temperature of the engine coolant when the ignition switch is ON.
Do not continue driving with an overheated engine. If your vehicle overheats, refer to "If the engine overheats" in section 6.
If the gauge pointer moves beyond the normal range area toward the "H" position, it indicates overheating that may damage the engine.

WARNING - Hot radiator
Never remove the radiator cap when the engine is hot. The engine coolant is under pressure and could cause severe burns. Wait until the engine is cool before adding coolant to the reservoir.
The tachometer indicates the approximate number of engine revolutions per minute (rpm). Use the tachometer to select the correct shift points and to prevent lugging and/or over-revving the engi ...
The fuel gauge indicates the approximate amount of fuel remaining in the fuel tank. The fuel tank capacity is given in section 8. The fuel gauge is supplemented by a low fuel warning light, whic ...
Other Information:
Rail Pressure Sensor (RPS): Repair procedures
Inspection 1. Connect the GDS on the Data Link Connector (DLC). 2. Measure the output voltage of the RPS at idle and various engine speed. ConditionOutput Voltage (V)Idle Approx. 1.21, ...
Transfer Fluid: Repair procedures
Inspection • Transfer oil should be inspected and refilled every 60000 km (40000 mile) / 4 year. 1. Remove the under cover (A). 2. Remove the oil fill ...