Kia Sportage: FLEX Steer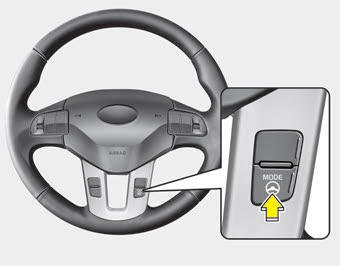 The FLEX Steer controls steering effort as driver's preference or road condition.
You can select the desired steering mode by pressing the FLEX Steer button.
The FLEX Steer stays in the last mode selected when turning the engine on.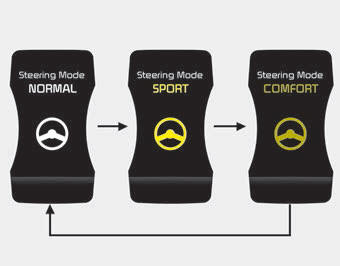 When the steering mode button is pressed, the selected steering mode will appear on the LCD display.
If the steering mode button is pressed within 4 seconds, the steering mode will change as above pictures.
If the steering wheel mode button is not pressed for about 4 seconds, the LCD display will change to the previous screen.
To sound the horn, press the horn symbols on your steering wheel. Check the horn regularly to be sure it operates properly. ✽ NOTICE To sound the horn, press the area indicated by the hor ...
The normal mode offers medium steering effort. ...
Other Information:
Engine oil pressure warning light
This warning light indicates the engine oil pressure is low. If the warning light illuminates while driving: 1.Drive safely to the side of the road and stop. 2.With the engine off, check the engi ...
Evaporator Temperature Sensor: Repair procedures
Inspection 1. Ignition "OFF". 2. Disconnect evaporator temperature sensor. 3. Using the multi-tester, Measure resistance between terminal "1" and "2" of evaporator temperature sensor. Spe ...