Kia Sportage: Four Wheel Drive (4WD) transfer mode selection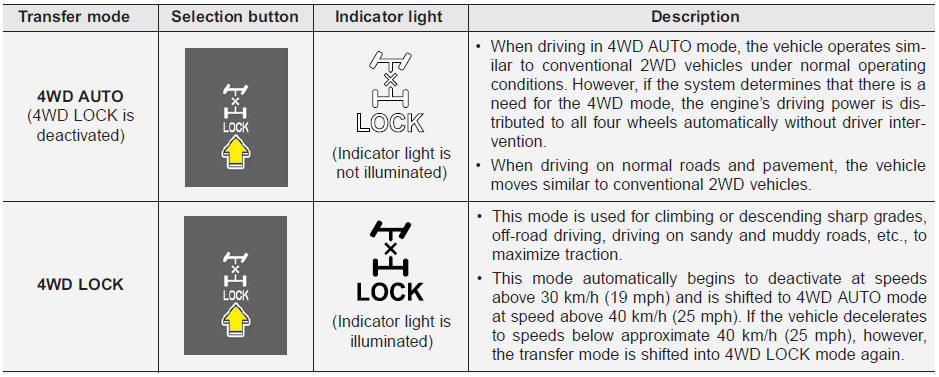 When the 4WD LOCK mode is deactivated, a shock may be felt as the drive power is delivered entirely to the front wheels. This shock is not a mechanical failure.

CAUTION - Normal road conditions
Do not drive on normal roads for prolonged periods of time with your vehicle locked in the 4WD mode. Driving on normal road with 4WD LOCK Mode (especially, when cornering) may cause mechanical noise or vibration which may damage your power train.
Tight corner brake effect is a unique characteristic of four-wheel drive vehicles caused by the difference in tire rotation at the four wheels and the zero-degree alignment of the front wheels and ...
Do not try to drive in deep standing water or mud since such conditions can stall your engine and clog your exhaust pipes. Do not drive down steep hills since it requires extreme skill to mai ...
Other Information:
Cup holder
WARNING - Hot liquids Do not place uncovered cups with hot liquid in the cup holder while the vehicle is in motion. If the hot liquid spills, you may burn yourself. Such a burn to the driver ...
Front headrest
The driver's and front passenger's seats are equipped with a headrest for the occupant's safety and comfort. The headrest not only provides comfort for the driver and front passenger, ...