Kia Sportage: Fuel Tank Pressure Sensor (FTPS): Specifications
Pressure




[kPa (kgf/cm?, in H2O)




Output Voltage (V)




-6.67 (-0.068, -26.8)




0.5




0




2.5




+6.67 (0.068, 26.8)




4.5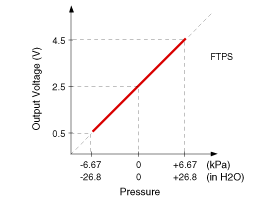 Description Fuel Tank Pressure Sensor (FTPS) is a component of the evaporative emission control system. It is installed on the fuel tank near the fuel pump assembly. It checks the evaporative s ...
Other Information:
Special Service Tools
Special Service Tools Tool Name / NumberIllustrationDescriptionOil seal installer09431-45100Used for installing oil seal of transfer case oil seal.(Right side)Oil seal installer09473-3B100Used fo ...
Components and Components Location
Components 1. Driver Airbag (DAB)2. Steering Wheel3. Clock Spring4. Seat Belt Pretensioner (BPT)5. Pressure Side Impact Sensor (P-SIS)6. Side Impact Sensor (SIS)7. Side Airbag (SAB)8. Passenger A ...
Copyright © www.kispmanual.com 2014-2019