Kia Sportage: ICM (Integrated Circuit Module) Relay Box: Schematic Diagrams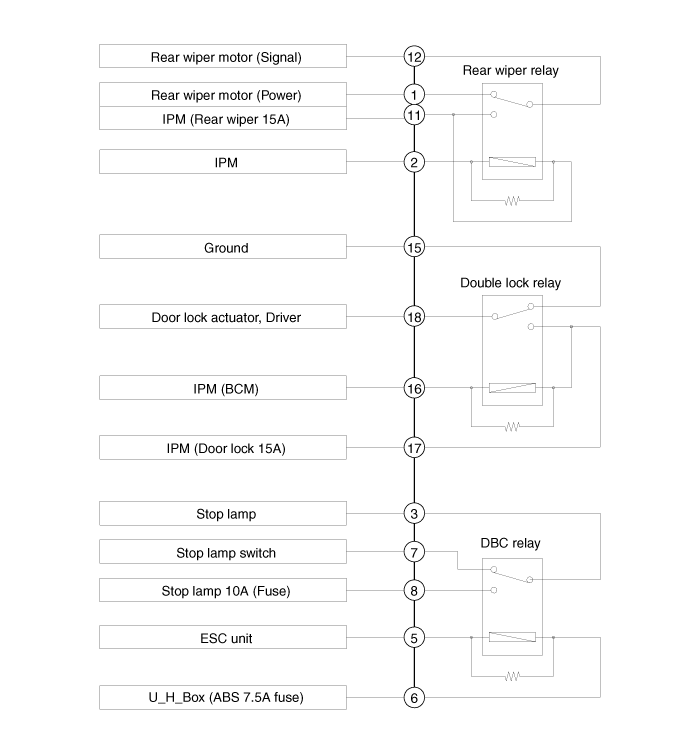 Component Pin Information NoConnector ANoConnector A1Rear wiper motor (Power)11IPM (Rear wiper 15A)2IPM12Rear wiper motor (Signal)3Stop lamp13-4-14-5ESC unit15GND6U_H_Box (ABS 7.5A fuse)16IPM (B ...
Description The ICM relay (A) is united with rear wiper relay, and DBC relay which installed inside the lower crash pad. ...
Other Information:
Specifications
Specifications ItemSpecificationPower supplyDC 14.4V (-) Negative groundFrequency range/ Channel spaceFM : 87.5~108.0MHz,AM : 531~1602KHzTuning typePLL SYNTHESIZED TUNINGAntenna80 pF 75 OhmDark c ...
Front Disc Brake: Components and Components Location
Components 1. Guide rod bolt2. Bleed screw3. Caliper bracket 4. Caliper body5. Inner pad shim6. Brake pad7. Pad retainer ...
Copyright © www.kispmanual.com 2014-2019