Kia Sportage: Ignition switch position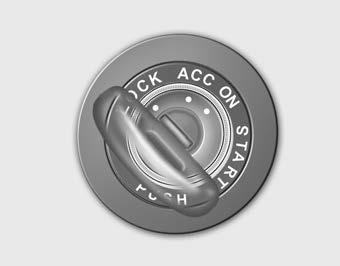 LOCK
The steering wheel locks to protect against theft (if equipped). The ignition key can be removed only in the LOCK position. When turning the ignition switch to the LOCK position, push the key inward at the ACC position and turn the key toward the LOCK position.
ACC (Accessory)
The steering wheel is unlocked and electrical accessories are operative.
If difficulty is experienced turning the ignition switch to the ACC position, turn the key while turning the steering wheel right and left to release the tension.
ON
The warning lights can be checked before the engine is started. This is the normal running position after the engine is started.
Do not leave the ignition switch ON if the engine is not running to prevent battery discharge.
START
Turn the ignition switch to the START position to start the engine. The engine will crank until you release the key; then it returns to the ON position. The brake warning light can be checked in this position.

WARNING - Ignition switch
Never turn the ignition switch to LOCK or ACC while the vehicle is moving. This would result in loss of directional control and braking function, which could cause an accident.
The anti-theft steering column lock is not a substitute for the parking brake. Before leaving the driver's seat, always make sure the shift lever is engaged in 1st gear for the manual transaxle or P (Park) for automatic transaxle, set the parking brake fully and shut the engine off. Unexpected and sudden vehicle movement may occur if these precautions are not taken.
Whenever a front door is opened, the ignition switch will illuminate for your convenience, provided the ignition switch is not in the ON position. The light will go off immediately when the igni ...
WARNING- Proper footwear Always wear appropriate shoes when operating your vehicle. Unsuitable shoes (high heels, ski boots, sandals, etc.) may interfere with your ability to use the brake an ...
Other Information:
Snow tires
If you equip your car with snow tires, they should be the same size and have the same load capacity as the original tires. Snow tires should be installed on all four wheels; otherwise, poor handli ...
Components and Components Location
Components Location 1. Automatic transaxle2. Valve body assembly3. Oil pump assembly ...