Kia Sportage: Indicator light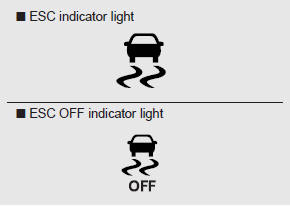 When the ignition switch is turned ON, the indicator light illuminates, then goes off if ESC system is operating normally.
The ESC indicator light blinks whenever ESC is operating and illuminates when ESC fails to operate.
The ESC OFF indicator light comes on when the ESC is turned off with the button.

CAUTION
Driving with varying tire or wheel sizes may cause the ESC system to malfunction. When replacing tires, make sure they are the same size as your original tires.

WARNING - Electronic stability control
Drive carefully even though your vehicle has Electronic Stability Control. It can only assist you in maintaining control under certain circumstances.
ESC OFF state To cancel ESC operation : • State 1 Press the ESC OFF button shortly (ESC OFF indicator light illuminates). At this state, the engine control function does not operate. In other w ...
When driving It's a good idea to keep the ESC turned on for daily driving whenever possible. To turn ESC off while driving, press the ESC OFF button while driving on a flat road surface. ...
Other Information:
ETC (Electronic Throttle Control) System: Troubleshooting
Fail-Safe Mode ItemFail-SafeETC MotorThrottle valve stuck at 5°TPSTPS 1 faultECM looks at TPS2TPS 2 faultECM looks at TPS1TPS 1,2 faultThrottle valve stuck at 5°APSAPS 1 faultECM looks at APS 2AP ...
Folding the outside rearview mirror
Manual type (if equipped) To fold the outside rearview mirror, grasp the housing of the mirror and then fold it toward the rear of the vehicle. Electric type (if equipped) To fold the outside ...