Kia Sportage: Injector: Description and Operation
Based on information from various sensors, the ECM can calculate the fuel amount to be injected. The fuel injector is a solenoid-operated valve and the fuel injection amount is controlled by length of injection time. The ECM controls each injector by grounding the control circuit. When the ECM energizes the injector by grounding the control circuit, the circuit voltage should be low (theoretically 0V) and the fuel is injected. When the ECM de-energizes the injector by opening control circuit, the fuel injector is closed and circuit voltage should momentarily peak, and then settle at system voltage.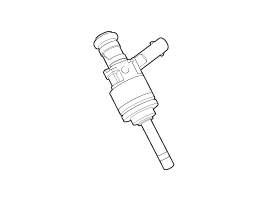 Inspection 1. Connect the GDS on the Data Link Connector (DLC). 2. Measure the output voltage of the FTPS. Specification: Refer to "Specification" Removal 1. Turn the ignition swit ...
Specification ItemSpecificationCoil Resistance (?)1.25 [20°C(68°F)] ...
Other Information:
How to use this manual
We want to help you get the greatest possible driving pleasure from your vehicle. Your Owner's Manual can assist you in many ways.We strongly recommend that you read the entire manual. In order to ...
Heater Unit: Components and Components Location
Component Location Components 1. Heater Case (LH)2. Heater Case (RH)3. Heater Lower Case4. Separator5. Shower Duct6. Heater Core7. Evaporator Core8. Evaporator Sensor9. Vent Door10. Vent Door11. ...
Copyright © www.kispmanual.com 2014-2020