Kia Sportage: Opening the hood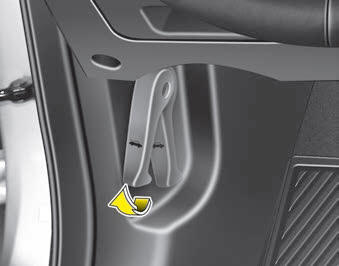 1.Pull the release lever to unlatch the hood. The hood should pop open slightly.
Open the hood after turning off the engine on a flat surface, shifting the shift lever to the P(Park) position for automatic transaxle and to the 1st(First) gear or R(Reverse) for manual transaxle, and setting the parking brake.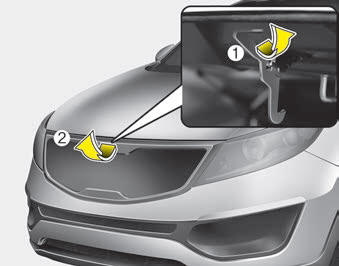 2.Go to the front of the vehicle, raise the hood slightly, pull the secondary latch (1) inside of the hood center and lift the hood (2).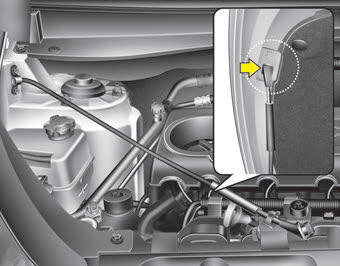 3.Pull out the support rod from the support rod holder.
4.Place the support rod end in the designated hole on the underside of the hood to hold up the hood.

WARNING - Hot parts
Grasp the support rod in the area wrapped in rubber. The rubber will help prevent you from being burned by hot metal when the engine is hot.
1.Before closing the hood, check the following: All filler caps in the engine compartment must be correctly installed. Gloves, rags or any other combustible material must be removed from the ...
Other Information:
Rail Pressure Sensor (RPS): Description and Operation
Description Rail Pressure Sensor (RPS) is installed on the delivery pipe and measures the instantaneous fuel pressure in the delivery pipe. The sensing element (Semiconductor element) built in ...
Radiator: Repair procedures
Inspection Radiator Cap Testing 1. Remove the radiator cap, wet its seal with engine coolant, and then install it on a pressure tester. 2. Apply a pressure of 93.16 ~ 122.58kPa (0.95 ~ 1.25kg ...