Kia Sportage: Rail Pressure Sensor (RPS): Description and Operation
Rail Pressure Sensor (RPS) is installed on the delivery pipe and measures the instantaneous fuel pressure in the delivery pipe. The sensing element (Semiconductor element) built in the sensor converts the pressure to voltage signal. By using this signal, the ECM can control correct injection amount and timing and adjusts the fuel pressure with the fuel pressure regulator valve if the target pressure and the actual pressure calculated by the RPS output signal are different.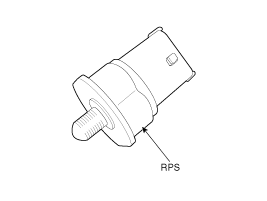 Inspection 1. Turn the ignition switch OFF. 2. Disconnect the HO2S connector. 3. Measure resistance between the HO2S terminals 4 and 5 [B1/S1]. 4. Measure resistance between the HO2S t ...
Other Information:
Rear Driveshaft: Components and Components Location
Component location 1. Coupling2. Sub frame3. Assist arm4. Lower arm5. Upper arm6. Trailing arm7. Coil spring8. Shock absorber9. Stabilizer10. Drive shaft11. Differential carrier assembly Compone ...
Engine oil pressure warning light
This warning light indicates the engine oil pressure is low. If the warning light illuminates while driving: 1.Drive safely to the side of the road and stop. 2.With the engine off, check the engi ...
Copyright © www.kispmanual.com 2014-2019