Kia Sportage: RCV Control Solenoid Valve: Description and Operation
RCV (Recirculation Valve) Control Solenoid Valve is installed on the intercooler inlet pipe and operates the RCV actuator which controls the by-pass passage of the turbocharger compressor.
When the throttle is closed, while the engine is running at cruise rpm (tip-out), the turbocharger boost pressure raises rapidly. The pressure wave strikes a compressor blades causing a knocking noise. To prevent this the ECM opens the recirculation valve which allows excessive boost pressure to vent back to the air cleaner side of the turbocharger compressor.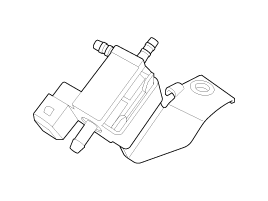 Inspection [Motor] 1. Turn ignition switch OFF. 2. Disconnect the EWGA connector. 3. Check that the EWGA is stuck by foreign material. 4. Measure resistance between motor (+) and ( ...
Specification ItemSpecificationCoil Resistance (?)28.3 ~ 31.1 [20°C(68°F)] ...
Other Information:
Repair procedures
Removal 1. Remove the radiator upper cover. (Refer to the BD group - "Front bumper") 2. Remove the bolt and disconnect the horn connector, then remove the low pitch horn (A). Installation ...
Parking brake & brake fluid warning light
Parking brake warning This light is illuminated when the parking brake is applied with the ignition switch in the START or ON position. The warning light should go off after a few seconds when ...
Copyright © www.kispmanual.com 2014-2019