Kia Sportage: Smart key unit: Components and Components Location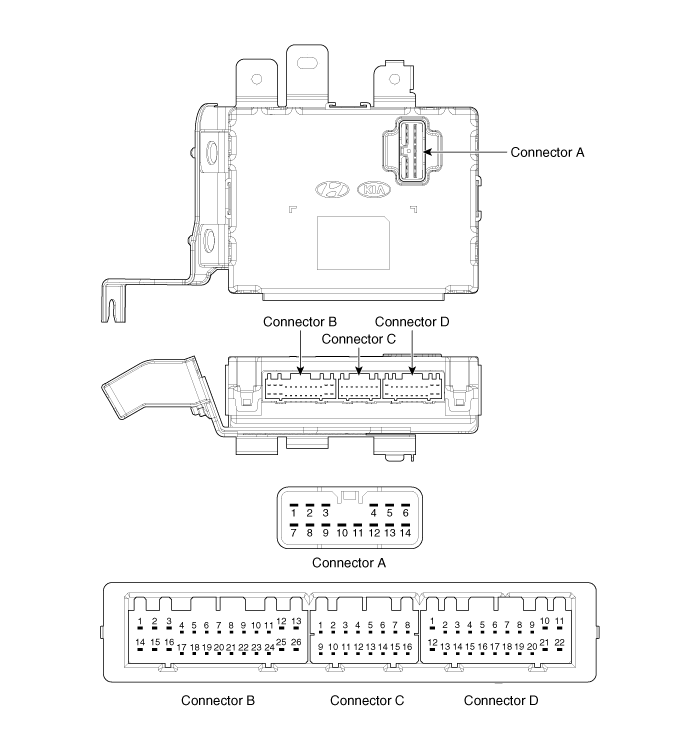 Connector Pin Information
No




Connector A (14 Pin)




No




Connector B (26 Pin)




1




Ground 1




1




-




15




L_Passenger lock button,




L_Passenger toggle button




2




A_ACC




2




L_Driver lock button,




L_Driver toggle button




16




-




3




A_IGN2




3




-




17




-




4




A_IGN1




4




-




18




-




5




VBAT_CPU




5




-




19




L_Fob input




6




VBAT_LOAD




6




L_SSB_Switch1




20




F_RPM




7




Ground 2




7




F_Wheel vehicle




21




L_Start Feedback




8




-




8




L_SSB_Switch2




22




-




9




O_Exterior buzzer




9




-




23




-




10




O_ACC Relay




10




-




24




-




11




O_IGN1 Relay




11




-




25




-




12




O_IGN2 Relay




12




B_CAN_H




26




L_Tailgate Switch




13




O_Starter Relay




13




B_CAN_L




?




?




14




-




14




-



Connector Pin Information
No




Connector C (16 Pin)




No




Connector D (22 Pin)




1




C_CAN_L




1




Immobilizer warning lamp




2




C_CAN_H




2




O_SSB_LED_AMBER




3




-




3




O_SSB_illumination power




4




O_Holder illumination




4




O_Interior antenna 2 ground




5




-




5




O_Interior antenna 1 ground




6




Diagnostic K




6




-




7




L_Brake switch




7




-




8




Immobilizer data




8




O_Interior antenna 3 power




9




RF_COM




9




O_Bumper antenna power




10




EMS_COM




10




O_Passenger side antenna power




11




-




11




O_Driver side antenna power




12




-




12




-




13




L_Stop lamp fuse




13




O_SSB_LED_Blue




14




-




14




O_SSB_illumination ground




15




L_P shift, L_Clutch switch




15




O_Interior antenna 2 power




16




Immobilizer clock




16




O_Interior antenna 1 power








17




-




18




-




19




O_Interior antenna 3 ground




20




O_Bumper antenna ground




21




O_Passenger side antenna ground




22




O_Driver side antenna ground



Smart Key Smart Key Code Saving 1. Connect the DLC cable of GDS to the data link connector (16 pins) in driver side crash pad lower panel, turn the power on GDS. 2. Select the vehicle model a ...
Other Information:
SS-B Solenoid Valve(ON/OFF): Repair procedures
Inspection 1. Turn ignition switch OFF. 2. Remove the air duct (A). 3. Remove the air cleaner assembly. (1) Disconnect the breather hose (A) and brake booster intensifier hose. (2) ...
Side Body: Body Repair
Side Body A Front side member tooling hole (O20)Fender apron panel tooling hole (O10)Front door upper hinge mounting hole(O13)Front door lower hinge mounting hole(O13)Fender panel mounting hole ( ...
Copyright © www.kispmanual.com 2014-2019