Kia Sportage: Specifications
Items




Specification




Fuel Tank




Capacity




55 lit. (14.5 U.S.gal., 58.1 U.S.qt., 48.4 Imp.qt.)




Fuel Filter




Type




Paper type




Fuel Pressure




Low Pressure Fuel Line




493 ~ 507 kPa (5.0 ~ 5.2 kgf/cm?, 71.5 ~ 73.5 psi)




High Pressure Fuel Line




2.0 ~ 15.0 MPa (20.4 ~ 153.0 kgf/cm?, 290.1 ~ 2175.6 psi)




Fuel Pump




Type




Electrical, in-tank type




Driven by




Electric motor




High Pressure Fuel Pump




Type




Mechanical type




Driven by




Camshaft



Manifold Absolute Pressure Sensor (MAPS) #1
? Type: Piezo-resistive pressure sensor type
Pressure




[kPa (kgf/cm?, psi)]




Output Voltage (V)




20.0 (0.20, 2.9)




0.79




46.7 (0.47, 6.77)




1.84




101.3 (1.03, 14.7)




4.0



Intake Air Temperature Sensor (IATS)
Temperature




Resistance (k?)




°C




°F




-40




-40




40.93 ~ 48.35




-20




-4




13.89 ~ 16.03




0




32




5.38 ~ 6.09




10




50




3.48 ~ 3.90




20




68




2.31 ~ 2.57




40




104




1.08 ~ 1.21




50




122




1.56 ~ 1.74




60




140




0.54 ~ 0.62




80




176




0.29 ~ 0.34



Manifold Absolute Pressure Sensor (MAPS) #2
? Type: Piezo-resistive pressure sensor type
Pressure




[kPa (kgf/cm?, psi)]




Output Voltage (V)




20.0 (0.20, 2.9)




0.79




46.7 (0.47, 6.77)




1.84




101.3 (1.03, 14.7)




4.0



Engine Coolant Temperature Sensor (ECTS)
Temperature




Resistance (k?)




°C




°F




-40




-40




48.14




-20




-4




14.13 ~ 16.83




0




32




5.79




20




68




2.31 ~ 2.59




40




104




1.15




60




140




0.59




80




176




0.32



Throttle Position Sensor (TPS) [integrated into ETC Module]
? Type: Variable resistor type
Throttle Angle(°)




Output Voltage (V) [Vref = 5.0V]




TPS1




TPS2




0




0




5.0




10




0.48




4.52




20




0.95




4.05




30




1.43




3.57




40




1.90




3.10




50




2.38




2.62




60




2.86




2.14




70




3.33




1.67




80




3.81




1.19




90




4.29




0.71




100




4.76




0.24




105




5.0




0



Item




C.T




W.O.T




TPS1




Throttle Angle (°)




6.3 ~ 14.7




93.45 ~ 101.85




Output Voltage




[Vref=5V]




0.3 ~ 0.7




4.45 ~ 4.85




TPS2




Throttle Angle (°)




90.3 ~ 98.7




3.15 ~ 11.55




Output Voltage




[Vref=5V]




4.3 ~4.7




0.15 ~ 0.55



| | |
| --- | --- |
| Item | Resistance (k?) |
| TPS | 0.875 ~ 1.625 [20°C(68°F)] |
Crankshaft Position Sensor (CKPS)
Camshaft Position Sensor (CMPS)
? Type: Piezo-electricity type
| | |
| --- | --- |
| Item | Specification |
| Capacitance (pF) | 850 ~ 1,150 |
Heated Oxygen Sensor (HO2S) [Bank 1/Sensor 1]
? Type: Zirconia (ZrO2) [Linear] Type
| | |
| --- | --- |
| Item | Specification |
| Heater Resistance (?) | 2.5 ~ 4.0 [20°C(69.8°F)] |
Heated Oxygen Sensor (HO2S) [Bank 1/Sensor 2]
? Type: Zirconia (ZrO2) [Binary] Type
| | |
| --- | --- |
| A/F Ratio (?) | Output Voltage(V) |
| RICH | Approx. 0.9 |
| LEAN | Approx. 0.04 |
| | |
| --- | --- |
| Item | Specification |
| Heater Resistance (?) | 3.3 ~ 4.1 [21°C(69.8°F)] |
Rail Pressure Sensor (RPS)
? Type: Piezo-electricity type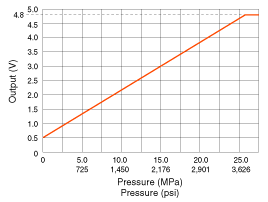 EWGA Position Sensor [integrated into Electric Waste Gate Actuator (EWGA)]
? Type: Hall effect, NON-Contact type
| | | | |
| --- | --- | --- | --- |
| Position | Output Voltage [V] | Operating Angle[°] | Range of Rod [mm], reference |
| Mechanical Close end stop Position (MCP) | 4.8 | 0 | 0 |
| Electrical Close end stop Position (ECP) | 4.2 | 12 | 1.8 |
| Electrical Open end stop Position (EOP) | 1 | 79 | 16 |
| Mechanical Open end stop Position (MOP) | 0.5 | 90 | 18 |
CVVT Oil Temperature Sensor (OTS)
| | |
| --- | --- |
| Temperature [°C(°F)] | Resistance (k?) |
| -40(-40) | 52.15 |
| -20(-4) | 16.52 |
| 0(32) | 6 |
| 20(68) | 2.45 |
| 40(104) | 1.11 |
| 60(140) | 0.54 |
| 80(176) | 0.29 |
Accelerator Position Sensor (APS)
? Type: Variable resistor type
Accelerator




Position




Output Voltage (V)




APS1




APS2




C.T




0.7 ~ 0.8




0.29 ~ 0.46




W.O.T




3.85 ~ 4.35




1.93 ~ 2.18



Fuel Tank Pressure Sensor (FTPS)
? Type: Piezo - Resistivity type
Pressure




[kPa (kgf/cm?, in H2O)




Output Voltage (V)




-6.67 (-0.068, -26.8)




0.5




0




2.5




+6.67 (0.068, 26.8)




4.5



| | |
| --- | --- |
| Item | Specification |
| Coil Resistance (?) | 1.25 [20°C(68°F)] |
ETC Motor [integrated into ETC Module]
| | |
| --- | --- |
| Item | Specification |
| Coil Resistance (?) | 1.2 ~ 1.8 [20°C(68°F)] |
Purge Control Solenoid Valve (PCSV)
| | |
| --- | --- |
| Item | Specification |
| Coil Resistance (?) | 19.0 ~ 22.0 [20°C(68°F)] |
CVVT Oil Control Valve (OCV)
| | |
| --- | --- |
| Item | Specification |
| Coil Resistance (?) | 6.9 ~ 7.9 [20°C(68°F)] |
Fuel Pressure Regulator Valve
| | |
| --- | --- |
| Item | Specification |
| Coil Resistance (?) | 0.5 [20°C(68°F)] |
EWGA DC Motor [integrated into Electric Waste Gate Actuator (EWGA)]
| | |
| --- | --- |
| Item | Specification |
| Coil Resistance (?) | 1.48 ~ 1.96 [21°C(69.8°F)] |
| | |
| --- | --- |
| Item | Specification |
| Primary Coil Resistance (?) | 0.62 ± 10%[20°C(68°F)] |
| Secendary Coil Resistance (k?) | 7.0 ± 15%[20°C(68°F)] |
RCV Control Solenoid Valve
| | |
| --- | --- |
| Item | Specification |
| Coil Resistance (?) | 28.3 ~ 31.1 [20°C(68°F)] |
Canister Close Valve (CCV)
| | |
| --- | --- |
| Item | Specification |
| Coil Resistance (?) | 19.8 ~ 21.8 [20°C(68°F)] |
Item




Specification




Ignition Timing (°)




BTDC 6 ± 10




Idle Speed (rpm)




A/C OFF




Neutral, N, P-range




650 ± 100




D-range




650 ± 100




A/C ON




Neutral, N, P-range




650 ± 100




D-range




730 ± 100



Engine Control System
| | | | |
| --- | --- | --- | --- |
| Item | kgf.m | N.m | lb-ft |
| ECM installation nut | 1.0 ~ 1.2 | 9.8 ~ 11.8 | 7.2 ~ 8.7 |
| ECM bracket installation bolt | 1.9 ~ 2.4 | 18.6 ~ 23.5 | 13.7 ~ 17.4 |
| ECM bracket installation nut | 1.0 ~ 1.2 | 9.8 ~ 11.8 | 7.2 ~ 8.7 |
| Manifold absolute pressure sensor #1 installation bolt | 1.0 ~ 1.2 | 9.8 ~ 11.8 | 7.2 ~ 8.7 |
| Manifold absolute pressure sensor #2 installation bolt | 1.0 ~ 1.2 | 9.8 ~ 11.8 | 7.2 ~ 8.7 |
| Crankshaft position sensor installation bolt | 1.0 ~ 1.2 | 9.8 ~ 11.8 | 7.2 ~ 8.7 |
| Crankshaft position sensor cover installation bolt (M6) | 1.0 ~ 1.2 | 9.8 ~ 11.8 | 7.2 ~ 8.7 |
| Crankshaft position sensor cover installation bolt (M8) | 1.9 ~ 2.4 | 18.6 ~ 23.5 | 13.7 ~ 17.4 |
| Camshaft position sensor (Bank 1 / Intake) installation bolt | 1.0 ~ 1.2 | 9.8 ~ 11.8 | 7.2 ~ 8.7 |
| Camshaft position sensor (Bank 1 / Exhaust) installation bolt | 1.0 ~ 1.2 | 9.8 ~ 11.8 | 7.2 ~ 8.7 |
| Knock sensor installation bolt | 1.9 ~ 2.4 | 18.6 ~ 23.5 | 13.7 ~ 17.4 |
| Heated oxygen sensor (Bank 1 / sensor 1) installation | 4.0 ~ 5.0 | 39.2 ~ 49.1 | 28.9 ~ 36.2 |
| Heated oxygen sensor (Bank 1 / sensor 2) installation | 4.0 ~ 5.0 | 39.2 ~ 49.1 | 28.9 ~ 36.2 |
| Rail pressure sensor installation | 1.8 ~ 2.2 | 18.0 ~ 22.0 | 13.3 ~ 16.2 |
| Electronic throttle body installation bolt | 0.8 ~ 1.0 | 7.8 ~ 9.8 | 5.8 ~ 7.2 |
| Purge control solenoid valve bracket installation bolt | 1.0 ~ 1.2 | 9.8 ~ 11.8 | 7.2 ~ 8.7 |
| CVVT oil control valve (Bank 1 / Intake) installation bolt | 1.0 ~ 1.2 | 9.8 ~ 11.8 | 7.2 ~ 8.7 |
| CVVT oil control valve (Bank 1 / Exhaust) installation bolt | 1.0 ~ 1.2 | 9.8 ~ 11.8 | 7.2 ~ 8.7 |
| Ignition coil installation bolt | 1.0 ~ 1.2 | 9.8 ~ 11.8 | 7.2 ~ 8.7 |
| RCV control solenoid valve bracket installation bolt | 1.0 ~ 1.2 | 9.8 ~ 11.8 | 7.2 ~ 8.7 |
| CVVT oil temperature sensor installation | 2.0 ~ 4.0 | 19.6 ~ 39.2 | 14.5 ~ 28.9 |
Fuel Delivery System
| | | | |
| --- | --- | --- | --- |
| Item | kgf.m | N.m | lb-ft |
| Fuel tank installation nut | 4.0 ~ 5.5 | 39.2 ~ 54.0 | 28.9 ~ 39.8 |
| Filler-neck assembly bracket installation bolt | 0.4 ~ 0.6 | 3.9 ~ 5.9 | 2.9 ~ 4.3 |
| Filler-neck assembly installation screw | 0.8 ~ 1.2 | 7.8 ~ 11.8 | 5.8 ~ 8.7 |
| Accelerator pedal module installation nut | 1.7 ~ 2.6 | 16.7 ~ 25.5 | 12.3 ~ 18.8 |
| Accelerator pedal module installation bolt | 0.8 ~ 1.2 | 7.8 ~ 11.8 | 5.8 ~ 8.7 |
| Delivery pipe installation bolt | 1.9 ~ 2.4 | 18.6 ~ 23.5 | 13.7 ~ 17.4 |
| High pressure fuel pump installation bolt | 1.3 ~ 1.5 | 12.8 ~ 14.7 | 9.4 ~ 10.9 |
| High pressure fuel pipe installation nut | 2.7 ~ 3.3 | 26.5 ~ 32.4 | 19.5 ~ 23.9 |
| High pressure fuel pipe function block installation bolt | 1.0 ~ 1.2 | 9.8 ~ 11.8 | 7.2 ~ 8.7 |
Special Service Tools ItemIllustrationApplicationFuel Pressure Gauge(09353-24100)Measuring the fuel line pressureFuel Pressure Gauge Adapter(09353-02100)Connection between the high pressure fuel ...
Other Information:
Occupant Detection System (ODS)
Your vehicle is equipped with an occupant detection system in the front passenger's seat. The occupant detection system is designed to detect the presence of a properly-seated front passeng ...
If you do decide to pull a trailer
Here are some important points if you decide to pull a trailer: Consider using a sway control. You can ask a hitch dealer about sway control. Do not do any towing with your car during its first ...