Kia Sportage: Tilting the sunroof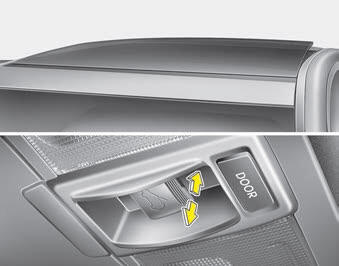 Before opening or closing the sunroof, open the roller blind (refer to the following page for instructions on how to use the roller blind).
To open the sunroof, push the sunroof control lever upward.
To close the sunroof, pull the sunroof lever downward or forward until the sunroof moves to the desired position.
Do not extend the face, neck, arms or body outside the sunroof while driving.

CAUTION - Sunroof motor damage
To prevent damage to the sunroof motor, periodically remove any dirt that may accumulate on the guide rail.
If you try to open the sunroof when the temperature is below freezing or when the sunroof is covered with snow or ice, the glass or the motor could be damaged.
Do not leave the roller blind closed while the sunroof is opened.
If an object or part of the body is detected while the sunroof is closing automatically, it will reverse the direction, and then stop. The auto reverse function does not work if a tiny obstacle i ...
The roller blinds are installed inside of the sunroof and glass roof. Open or close the roller blind manually using the handle (1) when you need to. Before opening or closing the sunroof, open the ...
Other Information:
Compression Test
Compression Pressure Inspection If the there is lack of power, excessive oil consumption or poor fuel economy, measure the compression pressure. 1. Warm up and stop ...
Torque Converter Control Solenoid Valve (T/CON_VFS): Specifications
Specifications Direct control VFS[T/CON] ? Control type : Normal low type Control Pressure kpa (kgf/cm?, psi)9.81 ~ 500.14(0.1 ~ 5.1,1.42 ~ 72.54)Current value(mA)50 ~ 850 Internal resist ...