Kia Sportage: Tire rotation
To equalize tread wear, it is recommended that the tires be rotated every 12,000 km (7,500 miles) or sooner if irregular wear develops.
During rotation, check the tires for correct balance.
When rotating tires, check for uneven wear and damage. Abnormal wear is usually caused by incorrect tire pressure, improper wheel alignment, outof- balance wheels, severe braking or severe cornering. Look for bumps or bulges in the tread or side of tire. Replace the tire if you find either of these conditions. Replace the tire if fabric or cord is visible. After rotation, be sure to bring the front and rear tire pressures to specification and check lug nut tightness.
Refer to "Tire and wheels" in section 8.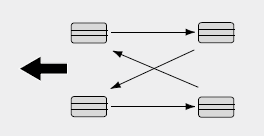 Without a spare tire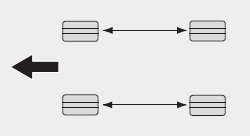 Directional tires
Disc brake pads should be inspected for wear whenever tires are rotated.
Rotate radial tires that have an asymmetric tread pattern only from front to rear and not from right to left.
Do not use the compact spare tire for tire rotation.

WARNING - Mixing tire types
Do not mix bias ply and radial ply tires under any circumstances. This may cause unusual handling characteristics.
Check your tires once a month or more. Also, check the tire pressure of the spare tire. How to check Use a good quality gauge to check tire pressure. You can not tell if your tires are properly i ...
The wheels on your vehicle were aligned and balanced carefully at the factory to give you the longest tire life and best overall performance. In most cases, you will not need to have your wheels al ...
Other Information:
Charging system warning light
This warning light indicates a malfunction of either the generator or electrical charging system. If the warning light illuminates while the vehicle is in motion: 1.Drive to the nearest safe loc ...
Brake Pedal: Components and Components Location
Components 1. Cowl bracket2. Brake pedal member assembly3. Stop lamp switch4. Return spring5. Brake pedal stopper6. Clevis pin7. Snap pin8. Brake pedal ...