Kia Sportage: TPMS Receiver: Description and Operation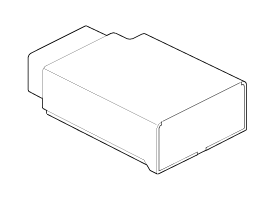 1.

(1)

| | |
| --- | --- |
| Х | The receiver as a sole part is shipped in this state. Replacement parts should therefore arrive in this state. |

| | |
| --- | --- |
| Х | In this state, there is no sensor monitoring and no DTC monitoring. |

| | |
| --- | --- |
| Х | The state indicates that platform specific parameters must be written to the receiver and that sensors are un-learned. |

(2)

| | |
| --- | --- |
| Х | In order for tire inflation state and DTC monitoring to occur, the receiver must be in this state. |

| | |
| --- | --- |
| Х | In this state, automatic sensor learning is enabled. |

(3)

| | |
| --- | --- |
| Х | This state is only used in manufacturing plant to check RF transmission between sensor and receiver. |
2.

| | |
| --- | --- |
| Х | Receives RF data from sensor. |

| | |
| --- | --- |
| Х | Uses sensor data to decide whether to turn on TREAD Lamp. |

| | |
| --- | --- |
| Х | Learn TPM sensor for under inflation monitoring automatically. |

| | |
| --- | --- |
| Х | Uses sensor information, distance travelled, background noise levels, Auto-learn status, short / open circuit output status, vehicle battery level, internal receiver states to determine if there is a system or a vehicle fault. |
1.

| | |
| --- | --- |
| Х | Auto-learn takes place only once per Ignition cycle. |

| | |
| --- | --- |
| Х | On successful completion, 4 road wheel sensor ID''s are latched into memory for monitoring. |

| | |
| --- | --- |
| Х | Until Auto-learn completes, previously learned sensors are monitored for under inflation / leak warnings. |
2.

General Conditions to Learn New Sensors:

| | |
| --- | --- |
| Х | Receiver must determine that it is confident that sensor is not temporary: |

| | |
| --- | --- |
| b. | Uses confidence reduction of previously learned sensors. |

| | |
| --- | --- |
| Х | Typical time at driving continuously over 12.4 mph(20 kph) to learn a new sensor is up to 20 minutes. |
3.

General Conditions to Un-Learn a sensor that is removed:

| | |
| --- | --- |
| Х | It takes less than 20 minutes at 12.4 ~ 18.6 mph(20 ~ 30kph). |

| | |
| --- | --- |
| Х | Confidence reduction is dependent on time which vehicle is driven at speed greater than or equal to 12.4 mph(20 kph). |
Removal Tire Removal 1. Deflate tire & remove balance weights. Sensor can be unscrewed before unseat the tire bead. Х The ...
Schematic Diagrams TPMS Receiver Circuit Diagram Harness Connector PinDescription1Battery2CAN_High3GND4-5-6-7IGN8CAN_Low9-10-11-12- ...
Other Information:
Description and Operation
Description The 6-speed automatic transaxle consists of an overdrive clutch (OD/C), a one-way clutch (OWC), a lower and reverse brake (LR/B), an underdrive brake (UD/B), a 26 brake (26/B), and ...
Front Lower Arm: Repair procedures
Replacement 1. Remove the front wheel & tire. Tightening torque : 88.3 ~ 07.9N.m (9.0 ~ 11.0kgf.m, 65.1 ~ 79.6lb-ft) Be careful not to damage to the hub bo ...
Copyright © www.kispmanual.com 2014-2019