Kia Sportage: Windshield wiper/washer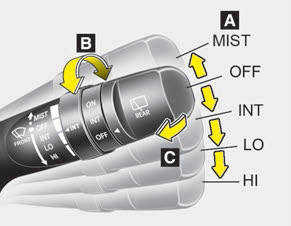 A : Wiper speed control
Ј MIST Ц Single wipe
Ј OFF Ц Off
Ј INT Ц Intermittent wipe
AUTO* Ц Auto control wipe
Ј LO Ц Low wiper speed
Ј HI Ц High wiper speed
B : Intermittent wipe time adjustment
C :Wash with brief wipes (front)*
D : Rear wiper control Ј ON Ц Continuous wipe Ј INT* Ц Intermittent wipe Ј OFF Ц Off E :Wash with brief wipes (rear)* ...
Other Information:
Troubleshooting
Troubleshooting Trouble symptomSuspect areaRemedy Shift delayBreakdown of clutch or brakeFaulty hydraulic controlFaulty hydraulic supply???Clutch, BrakeSolenoid valve, Valve bodyMechanical o ...
Battery replacement
A smart key battery should last for several years, but if the smart key is not working properly, try replacing the battery with a new one. If you are unsure how to use your smart key or replace ...
Copyright © www.kispmanual.com 2014-2018