Kia Sportage: Windshield wiper/washer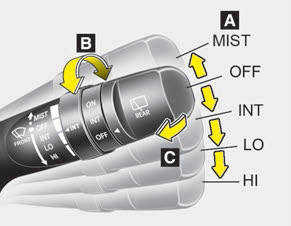 A : Wiper speed control
· MIST – Single wipe
· OFF – Off
· INT – Intermittent wipe
AUTO* – Auto control wipe
· LO – Low wiper speed
· HI – High wiper speed
B : Intermittent wipe time adjustment
C :Wash with brief wipes (front)*
D : Rear wiper control · ON – Continuous wipe · INT* – Intermittent wipe · OFF – Off E :Wash with brief wipes (rear)* ...
Other Information:
ETC (Electronic Throttle Control) System: Specifications
Specification [Throttle Position Sensor (TPS)] Throttle Angle(°)Output Voltage(V) [Vref = 5.0V]TPS1TPS200.05.0100.484.52200.954.05301.433.57401.903.10502.382.62602.862.14703.331.67803.811.19904. ...
USING THE iPod® DEVICE
Some iPod® models may not support communication protocol and files may not properly play. Supported iPod® models: - iPhone® 3GS/4 - iPod® "Touch" 1st~4th generation - iPod® &quot ...
Copyright © www.kispmanual.com 2014-2019