Kia Sportage: Aux, USB and iPod® port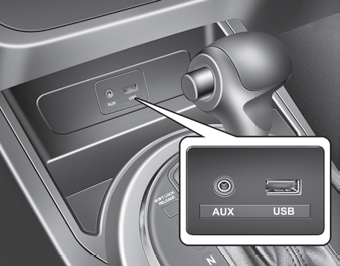 If your vehicle has an aux and/or USB(universal serial bus) port or iPod® port, you can use an aux port to connect audio devices and an USB port to plug in an USB and also an iPod® port to plug in an iPod®.
✽ NOTICE
When using a portable audio device connected to the power outlet, noise may occur during playback. If this happens, use the power source of the portable audio device.
* iPod® is a trademark of Apple Inc.
iPod® mobile digital device sold separately. Connectivity may require use of the Kia accessory cable.

WARNING - Distracted driving
Driving while distracted can result in a loss of vehicle control that may lead to an accident, severe personal injury, and death. The driver's primary responsibility is in the safe and legal operation of a vehicle, and use of any handheld devices, other equipment, or vehicle systems which take the driver's eyes, attention and focus away from the safe operation of a vehicle or which are not permissible by law should never be used during operation of the vehicle.