Kia Sportage: Battery replacement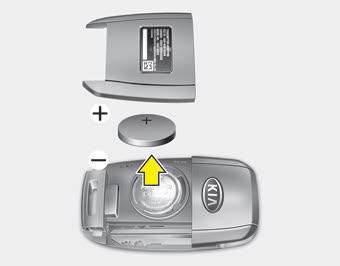 A transmitter uses a 3 volt lithium battery which will normally last for several years. When replacement is necessary, use the following procedure.
1.Insert a slim tool into the slot and gently pry open the transmitter center cover.
2.Replace the battery with a new battery (CR2032). When replacing the battery, make sure the battery position is positioned battery.
3.Install the battery in the reverse order of removal.
For transmitter replacement, see an authorized Kia dealer to reprogram the transmitter.
The keyless entry system transmitter is designed to give you years of trouble-free use, however it can malfunction if exposed to moisture or static electricity. If you are unsure how to use your transmitter or replace the battery, contact an authorized Kia dealer.
Using the wrong battery can cause the transmitter to malfunction. Be sure to use the correct battery.
✽ NOTICE
An inappropriately disposed battery can be harmful to the environment and human health.
Dispose the battery according to your local laws or regulations.
IC WARNING
This device complies with Industry Canada licenceexempt RSS standard(s).
Operation is subject to the following two conditions : (1) this device may not cause interference, and (2) this device must accept any interference, including interference that may cause undesired operation of the device.