Kia Sportage: Components and Components Location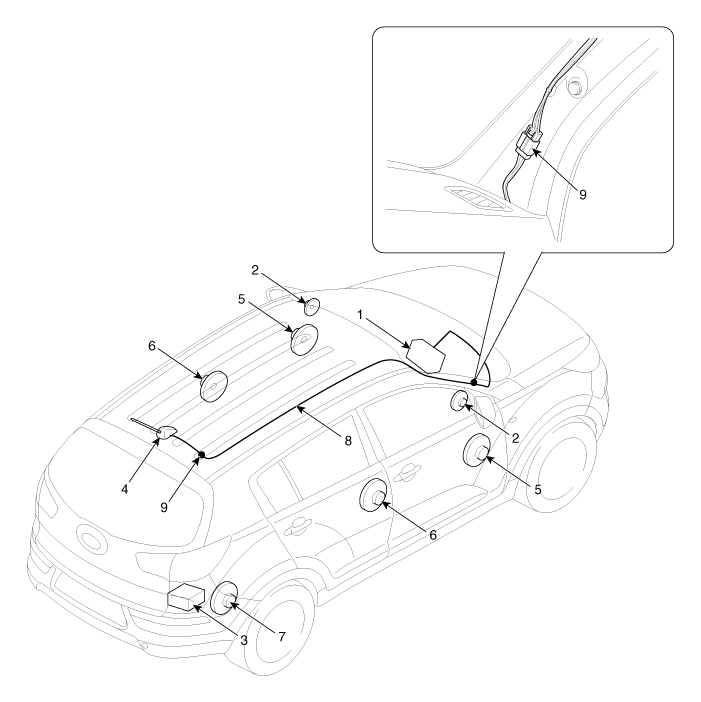 1. AVN (A/V & Navigation) head unit




2. Tweeter speaker




3. External Amplifier




4. Roof antenna (GPS + SDARS + Radio)




5. Front door speaker




6. Rear door speaker




7. Woofer speaker




8. Antenna feeder cable




9. Feeder cable joint connector



? SDARS : Satellite Digital Audio Radio Service
AVN (A/V & Navigation) Head Unit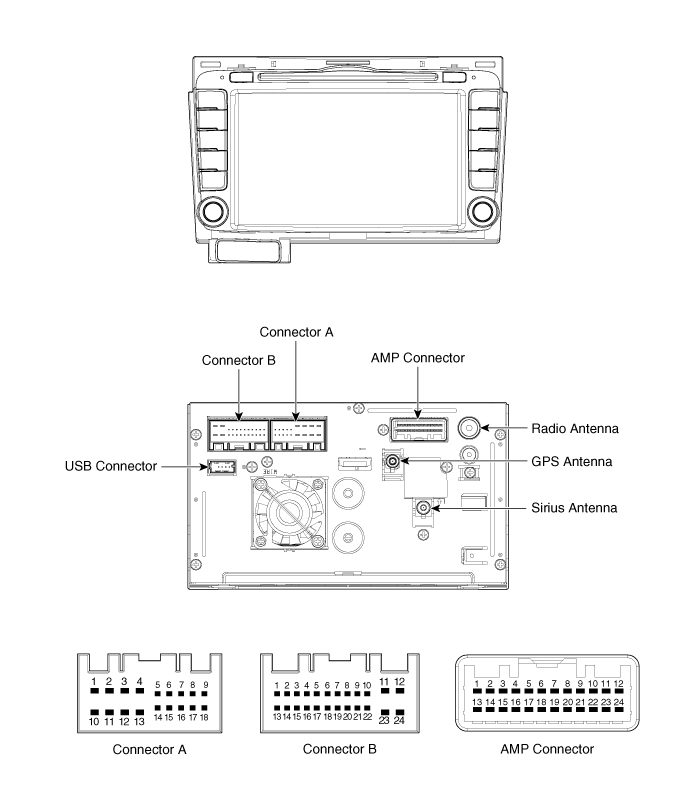 Connector Pin Information
No.




Connector A




Connector B




AMP Connector




1




-




MM CAN (+)




-




2




Back View Camera Video




MTS Detect / -




-




3




Back View Camera V_GND




Parking (M/T GND)




-




4




Back View Camera P_GND




Steering Key




-




5




SPDIF GND




-




-




6




SPDIF (+)




IGN




-




7




ALT-L




AUX/iPOD Video




-




8




Illumination (+)




AUX Audio R




-




9




Reverse




AUX A GND




-




10




-




MIC (+)




-




11




Back View Camera Battery (+)




ACC




Door Open




12




Navigation Voice (-)




Battery (+)




GND




13




Navigation Voice (+)




MM CAN (-)




-




14




-




Auto Light




-




15




SPDIF (-)




P Position




-




16




Door Unlock




Speed




-




17




Illumination (-)




Steering Key GND




-




18




Antenna Remote




-




-




19




?




AUX/iPOD V GND




-




20




AUX Audio DET




-




21




AUX Audio L




-




22




MIC (-)




-




23




GND




GND




24




GND




-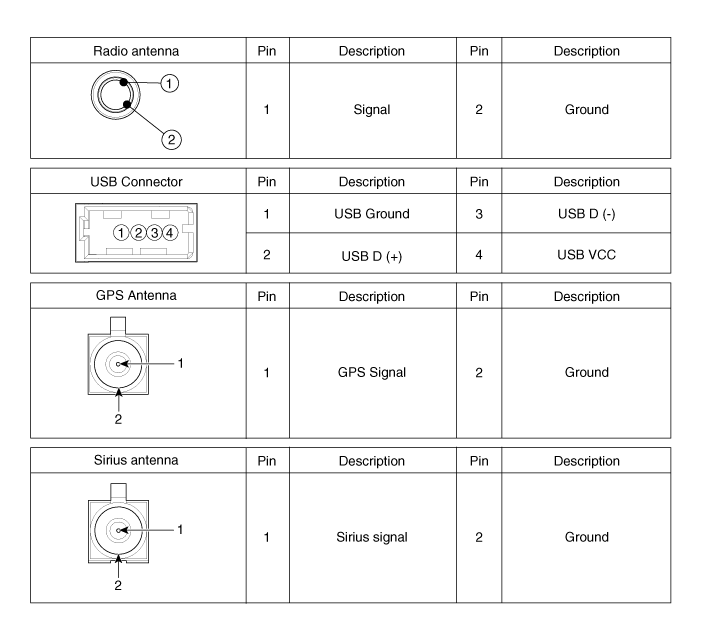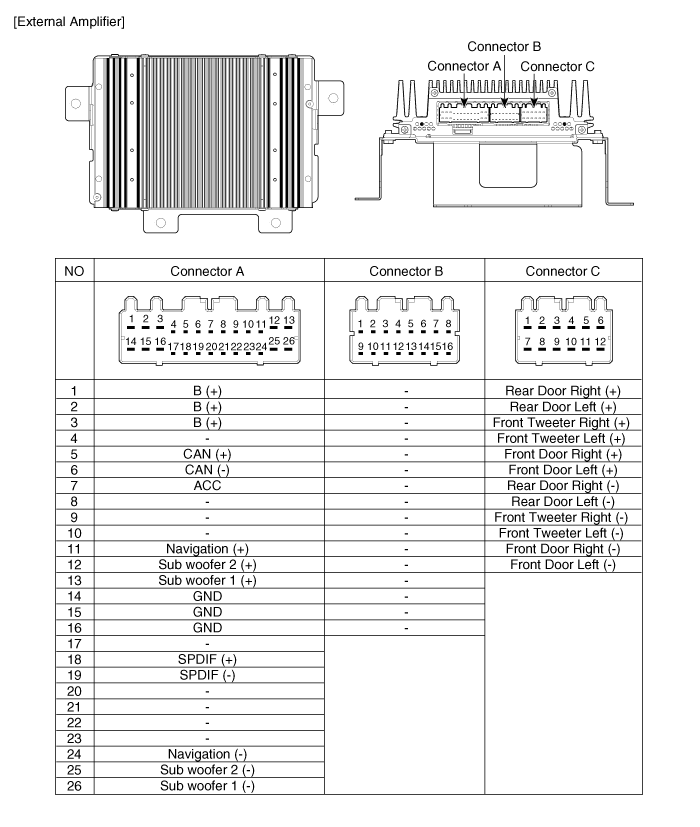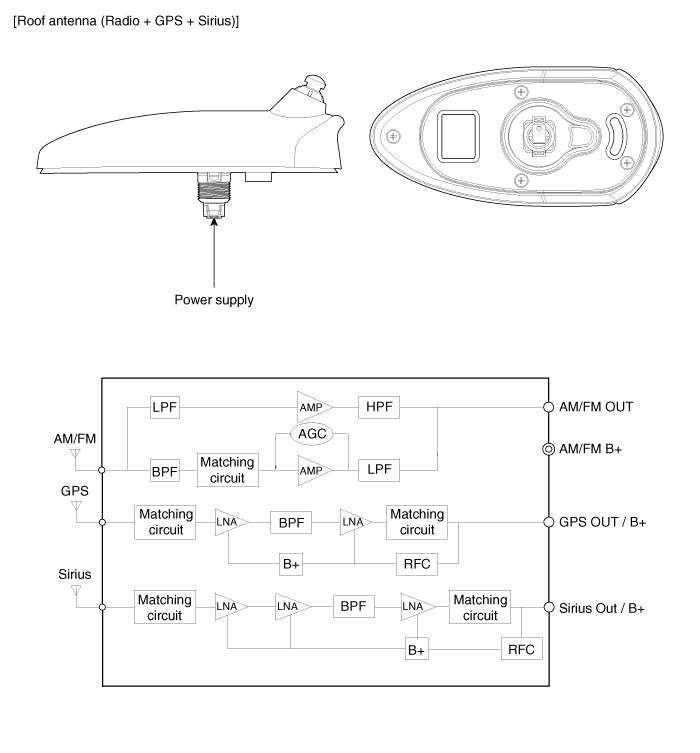 Specifications ItemSpecificationPower supplyDC 14.4V (-) Negative groundFrequency range/ Channel spaceFM : 87.5~108.0MHz,AM : 531~1602KHzTuning typePLL SYNTHESIZED TUNINGAntenna80 pF 75 OhmDark c ...
Other Information:
Hands Free Switch: Repair procedures
Inspection 1. Check the handsfree remote control switch for resistance between No.3 and No.4 terminals in each switch position. [Call + Hang Up] SwitchConnector terminalResistance (±5%) Output ...
For safe four-wheel drive operation
Do not try to drive in deep standing water or mud since such conditions can stall your engine and clog your exhaust pipes. Do not drive down steep hills since it requires extreme skill to mai ...
Copyright © www.kispmanual.com 2014-2023