Kia Sportage: Engine Coolant Temperature Sensor (ECTS): Description and Operation
Engine Coolant Temperature Sensor (ECTS) is located in the engine coolant passage of the cylinder head for detecting the engine coolant temperature. The ECTS uses a thermistor that changes resistance with the temperature.
The electrical resistance of the ECTS decreases as the temperature increases, and increases as the temperature decreases. The reference +5V is supplied to the ECTS via a resistor in the ECM. That is, the resistor in the ECM and the thermistor in the ECTS are connected in series. When the resistance value of the thermistor in the ECTS changes according to the engine coolant temperature, the output voltage also changes.
During cold engine operation, the ECM increases the fuel injection duration and controls the ignition timing using the information of engine coolant temperature to avoid engine stalling and improve drivability.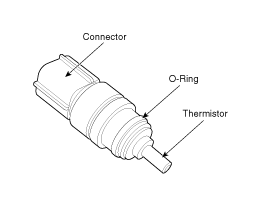 Inspection 1. Turn the ignition switch OFF. 2. Disconnect the IATS connector. 3. Measure resistance between the IATS terminals 3 and 4. 4. Check that the resistance is within the speci ...
Specification TemperatureResistance (k?)°C°F-40-4048.14-20-414.13 ~ 16.830325.7920682.31 ~ 2.59401041.15601400.59801760.32 ...
Other Information:
4WD ECU: Repair procedures
Replacement Prior to replacing the 4WD ECU, check the 4WD ECU''s clutch learing with the GDS tool. (Refer to " Coupling assembly " in 4WD group) 1. Remove the lo ...
4WD ECU: Flow Diagram
Power Flow Diagram 4WD ECU Input&Output Diagram ...
Copyright © www.kispmanual.com 2014-2023