Kia Sportage: Intake Air Temperature Sensor (IATS): Description and Operation
Intake Air Temperature Sensor (IATS) is included inside Manifold Absolute Pressure Sensor and detects the intake air temperature.
To calculate precise air quantity, correction of the air temperature is needed because air density varies according to the temperature. So the ECM uses not only MAPS signal but also IATS signal. This sensor has a Negative Temperature Coefficient (NTC) Thermister and it''s resistance changes in reverse proportion to the temperature.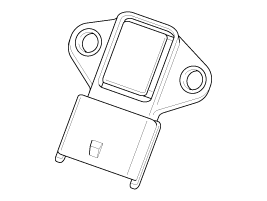 Inspection 1. Connect the GDS on the Data Link Connector (DLC). 2. Measure the output voltage of the MAPS at idle and IG ON. Specification: Refer to "Specification" Removal 1. Tur ...
Specification TemperatureResistance (k?)∞C∞F-40-4040.93 ~ 48.35-20-413.89 ~ 16.030325.38 ~ 6.0910503.48 ~ 3.9020682.31 ~ 2.57401041.08 ~ 1.21501221.56 ~ 1.74601400.54 ~ 0.62801760.29 ~ 0.34 ...
Other Information:
Four wheel drive (4WD)
Engine power can be delivered to all front and rear wheels for maximum traction. 4WD is useful when extra traction is required on road, such as, when driving on slippery, muddy, wet, or snow-cover ...
Emergency towing precautions
Turn the ignition switch to ACC so the steering wheel isnТt locked. Place the transaxle shift lever in N (Neutral). Release the parking bake. Press the brake pedal with more force than usual ...
Copyright © www.kispmanual.com 2014-2023