Kia Sportage: Oil hydraulic Motor(Actuator): Description and Operation
The 4WD ECM controls the Pump Motor Pump (Actuator) to generating an oil pressure. The pressure engages a multiple disk clutch to transfer torque to the rear wheels. The torque to the rear wheels varies according to the pressure on the clutch.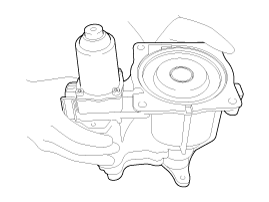 Inspection All units are filled up with coupling fluid (ultra-low viscosity ATF) prior to shipping. Inspection, fill-up, and replacement of coupling fluid is theref ...
Other Information:
Air conditioning system
We recommend that you contact an authorized Kia dealer for more details. ...
Seat belt warning
As a reminder to the driver, the seat belt warning light will blink for approximately 6 seconds each time you turn the ignition switch ON, regardless of belt fastening. If the driver's seat b ...
Copyright © www.kispmanual.com 2014-2022