Kia Sportage: Transaxle Oil Temperature Sensor: Description and Operation
Transaxle oil temperature sensor monitors the automatic transaxle fluid''s temperature and conveys the readings to TCM. It is an NTC (Negative Thermal Coefficient) sensor whose resistance has an inversely proportional relationship with the temperature level. Data produced by this sensor is used to identify damper clutch activation and deactivation zones within the low temperature and high temperature range and to compensate hydraulic pressure levels during gear changes.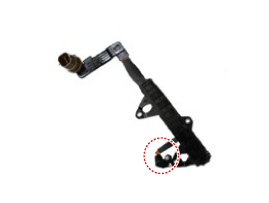 Inspection TCM Problem Inspection Procedure 1. TEST TCM GROUND CIRCUIT: Measure resistance between TCM and chassis ground using the backside of TCM harness connector as TCM side check point. ...
Specifications ? Type: Negative Thermal Coefficient Type Temp.[(°C)°F]Resistance (k?)(-40)-4048.1(-20)-4.015.6(0)32.05.88(20)68.02.51(40)104.01.11(60)140.00.61(80)176.00.32(100)212.00.18(120)248 ...
Other Information:
Sliding the sunroof
Before opening or closing the sunroof, open the roller blind (refer to the following page for instructions on how to use the roller blind). To open or close the sunroof (manual slide feature), pu ...
Before entering vehicle
Be sure that all windows, outside mirror(s), and outside lights are clean. Check the condition of the tires. Check under the vehicle for any sign of leaks. Be sure there are no obstacles behi ...
Copyright © www.kispmanual.com 2014-2023